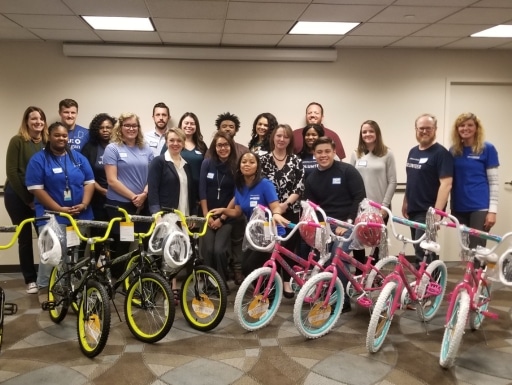 JPMorgan Chase partnered with the YMCA for a successful Build-A-Bike® team building event in Indianapolis, IN. The event brought together 20 participants from JPMorgan Chase for a day of team building, community engagement, and philanthropy.
JPMorgan Chase is a renowned financial services company. They provide a wide range of banking, investment, and financial solutions to individuals, corporations, and institutions. With a strong commitment to corporate social responsibility, JPMorgan Chase actively engages in community initiatives and supports organizations that promote education, workforce development, and social well-being.
JPMorgan Chase builds bicycles for charity event in Indianapolis, Indiana
Twenty participants from JPMorgan Chase eagerly participated in the Build-A-Bike® event held at the YMCA of Greater Indianapolis. Through various team-building activities, they worked together, leveraging their individual strengths and talents to assemble bicycles for children in need. Above all, this hands-on experience encouraged teamwork, problem-solving, and effective communication, fostering a sense of camaraderie among the participants.
The Build-A-Bike® event not only provided JPMorgan Chase employees with a rewarding team-building experience but also supported the YMCA's mission of promoting youth development, healthy living, and social responsibility.
We give a big thanks to JPMorgan Chase for their participation in this charity event. We also want to thank the YMCA of Greater Indianapolis for their cooperation in receiving Chase's generous donation. Together, they have created a lasting memory for the participants and made a difference in the lives of children in need.
Want to build your team up with a fun, rewarding event? Contact us to learn more about all of our team building games in Indianapolis, IN!