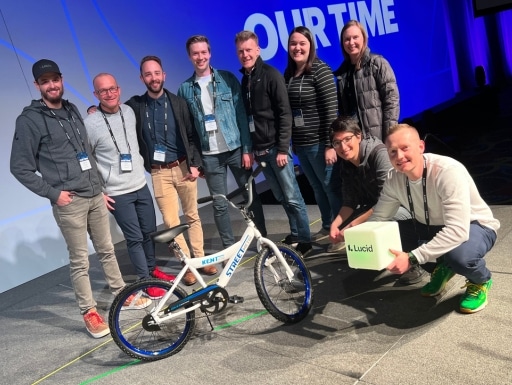 Lucid gathered for a remarkable Build-A-Bike® team building event in Salt Lake City, UT, bringing together a staggering 1000 participants. The event aimed to foster collaboration, creativity, and community engagement as well as make positive impact on multiple charities. The bicycles built during the event were generously donated to United Way, Club Ability, International Rescue Committee, and RISE Academy, organizations dedicated to improving lives and empowering individuals.
Lucid is an innovative visual collaboration suite that empowers teams worldwide to visualize and bring their ideas to life. With widely used products such as Lucidchart and partnerships with industry leaders, Lucid has established itself as a go-to solution for organizations in over 180 countries. The company's core values, including teamwork, innovation, empowerment, initiative, and passion, drive its success and shape its vibrant workplace culture.
Lucid's Extraordinary Build-A-Bike® Event Creates Community Impact and Supports Multiple Charities in Salt Lake City, Utah
The Build-A-Bike event for Lucid was nothing short of extraordinary, gathering an impressive 1000 participants from various teams and departments. This event presented an incredible opportunity for collaboration, fostering teamwork and camaraderie among the Lucid team members. Salt Lake City provided a dynamic backdrop for the event, fueling the participants' energy and enthusiasm.
One of the remarkable aspects of the event was the involvement of multiple charities. Lucid's dedication to community engagement was evident through their support of United Way, Club Ability, International Rescue Committee, and RISE Academy. By donating the bicycles to these organizations, Lucid aimed to contribute to the betterment of lives, be it through education, empowerment, or assisting individuals in need. This commitment to social responsibility further exemplifies Lucid's values-driven approach.
We give a massive thank you to Lucid for their commitment to the community. We also thank the four charities that helped connect children in need to their newly built bicycles.
Want to create a lasting impact with your team? Try an unforgettable charity event! Contact us today to learn more about all the team building games in Salt Lake City, UT that we offer.