"Education is a kind of continuing dialogue, and a dialogue assumes, in the nature of the case, different points of view." – Robert Hutchins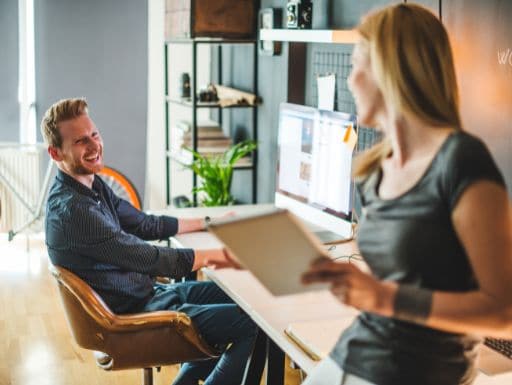 Oprah Winfrey was the most successful daytime TV star of all time. In fact, she is still one of the most influential people in America. When she promoted a book on her television show, it would typically be on the bestseller list within a week.
However, I'd wager that Ms. Winfrey's success would have been far less dramatic if she had lectured her audience for an hour each day.
One characteristic of her show that made her so influential was the way she created a one-on-one dialogue with her guests. It was as though her audience and her guests were speaking to one another. As a result, she grew her audience, and her influence, year after year.
CREATE TWO-WAY CONVERSATIONS TO IMPROVE COMMUNICATION.
We can learn from her success. You too can have more influence over others if you create a two-way communication.
One of the most common complaints I hear from front-line employees is that top management does not take their ideas seriously and does not address their concerns. Many companies today have a top-down communication in place that can stifle creativity and build resentment in front-line employees.
Many of these employees have ideas that could revolutionize the company. But far too often, leaders overlook these ideas. The people at the top are too focused on the status quo.
IDEAS FROM YOUR FRONT-LINE WORKERS CAN MAKE MILLIONS.
Herb Peterson was a McDonald's franchise holder in 1972 when he had an idea to add breakfast to the menu. At that time, McDonald's was just a hamburger place without a lot of additional items, and no one would want to go to a hamburger place for breakfast.
Herb went ahead and crafted a Teflon circle in his garage to be able to easily cook eggs Benedict on a hamburger grill, and he took the idea to the McDonald's headquarters in Chicago. Today, it's estimated that McDonald's sells about $4 billion worth of breakfast every year.
Those dialogues that we create with the people who work for us can provide us with valuable information – both good and bad. This information is critical in helping us make solid decisions in the marketplace.
To influence others in a positive way, take a lesson from Oprah and McDonald's. Create dialogues rather than monologues.
Week #3: Gain Enthusiastic Cooperation
Principle #17: Encourage and Facilitate Two-Way Communication.