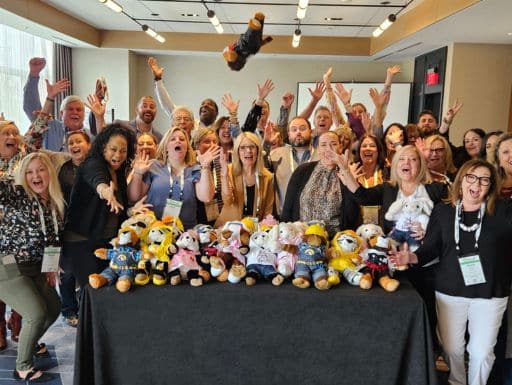 Epcon Communities added a Rescue Bear® event to their conference in Nashville, TN. The event was held in conjunction with a Build-A-Bike® team event in the same venue at JW Marriott Nashville. Both events were organized to give the teams a fun activity in the middle of a multi-day conference.
Epcon Communities is a company that specializes in developing homes and neighborhoods in more than twenty states in the United States. Their aim is to create a remarkable living experience that enables their residents to enjoy a better quality of life. By incorporating smart and innovative designs with modern amenities, Epcon has been successful in delivering on its promises since 1986. To date, over 30,000 families and individuals have chosen to call Epcon Communities their home. This has made them one of the leading lifestyle-focused home developers in the country, consistently ranked year after year.
Homebuilding company stuffs teddy bears for children in need in Nashville, Tennessee
Epcon Communities held a conference for their corporate and franchise employees, including members from the sales and support teams. After being in meetings all day, the employees were glad to change up the pace with a new activity that would prioritize fun and camaraderie.
The instructor helped warm up the participants with a series of improv games in order to get them laughing and in a talkative mood. After that, they were ready to get into the heart of the program. In the Rescue Bear® event, participants will first split themselves into teams. Each team must face a series of challenges and, for every challenge successfully completed, the judges award them with materials to construct their teddy bears. At the end, the teams presented a set of completed bears for the Child Rescue Coalition.
Looking for a way to mix things up at your next conference? Try one of our team building games in Nashville, TN!
Thank you Epcon Communities and the Child Rescue Coalition for your generous contribution!