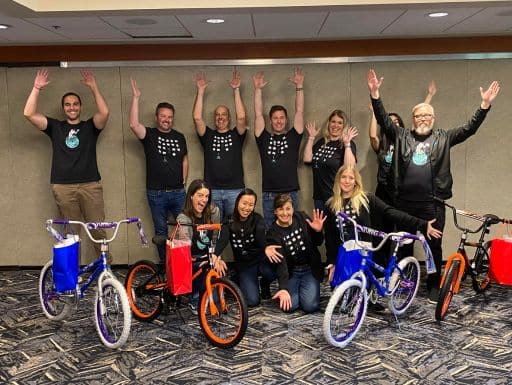 MasterControl held an offsite event for some of their employees, and they decided a Build-A-Bike® team building event would fit right into their agenda. It was a small team, but not too small to learn a lesson on teamwork.
MasterControl offers the world's leading solutions for product quality. They help highly regulated companies ensure quality and compliance in their life sciences operations. Their quality management system is used by the FDA, CDC, and ORA. They also have a digital manufacturing solution that helps their customers go 100% paperless. In total, more than 1,000 global customers have used MasterControl.
MasterControl team builds bicycles for charity in Salt Lake City, Utah
The event was for a small group. But that didn't make them any less determined to solve the clues that would earn them bicycle parts. However, once they realized that the clues couldn't be answered on their own, they were able to assemble all the bicycle parts much quicker. Best of all, this necessity for teamwork fell right in line with the theme of their two day offsite: cooperation.
If you're looking for a fun way teach your team the value of cooperation, consider a team building event in Salt Lake City, UT!
After the bikes were built, they were donated to the Boys & Girls Club of Greater Salt Lake. They would later be received by a group of lucky children.
Thank you to MasterControl for helping complete another successful Build-A-Bike® event!