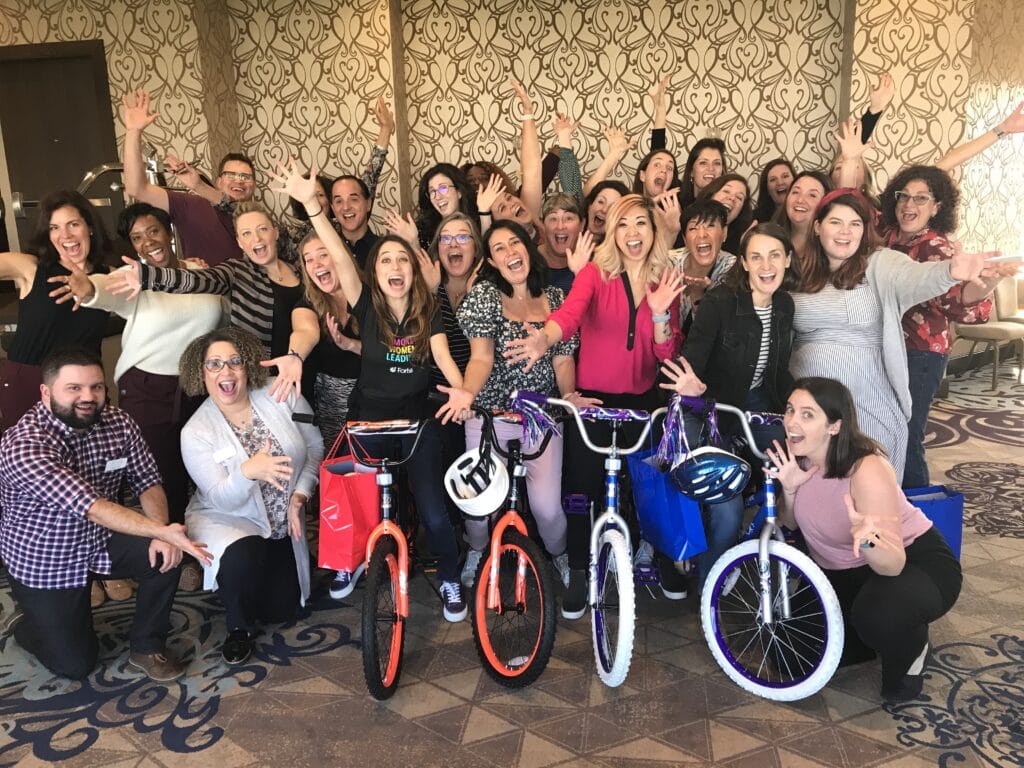 We had a fantastic time leading a fun charity build-a-bike activity in Austin, TX for The Forte Foundation. Forte is a non-profit organization that supports women in the workplace who are trying to earn Executive MBAs. The members of the organization are from diverse backgrounds, industries, and career stages. So the foundation's goal is to unite to shake up the status quo. This bike build helped the group fulfill its mission to "launch women into fulfilling, significant careers through access to business education, professional development, and a community of successful women."
As the team building activity unfolded, we saw this mission in action. In their normal day-to-day activities, this team is all about helping others. However, to make the activity more fun, we divided the team into smaller groups. Then, we had each of these small groups compete to earn all of their bicycle parts. The energy in the room exploded as each team got closer to earning that last elusive bike piece.
The Foundation Donated the Bicycles to the Boys & Girls Club of Austin.
As the last group tightened the last bolt on the last bicycle, the teams began to high-five each other and take photos with their bikes. Then, as a surprise, Monica Balderas from the Boys & Girls Club of Austin arrived to accept the bikes on behalf of her kids. There wasn't a dry eye in the room as Monica talked about how the Covid Pandemic had negatively affected the kids who come to her club.
She said, "Over 70% of the kids in our club have had at least one parent who has either lost a job or lost income as a result of the Covid Pandemic," she said. "As a result, many of these kids have a sad outlook for this Christmas. Your donation of these bikes is a Godsend for many of these children."
Thanks to The Forte Foundation and the Boys & Girls Club of Austin for a very memorable (and emotional) Build-A-Bike event!