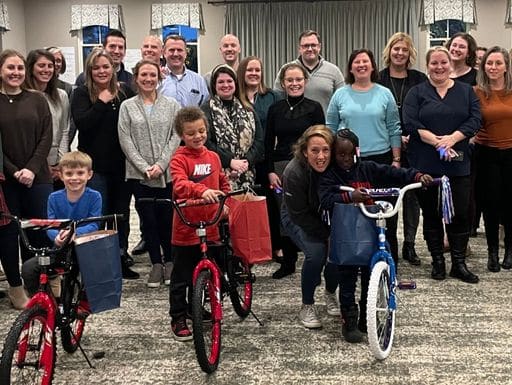 The Lactalis crew joined for a little out of office fun in Manchester, New Jersey. They wanted to add a fun team-building activity to their meeting. Our bike build program was the perfect supplement to their agenda for the day. Everyone enjoyed their time well spent and had a great time.
Lactalis grew from a family-owned company to a global leader in the dairy industry. They have a unique expertise in dairy and were created in 1933. The company continues to contribute to the development of the rural economy. Lactalis branched into the US in early 1980. By 1992, Lactalis added a headquarters stateside. Their continued sense of family goes beyond the three generational owners. Family is an essential part of the company culture.
Lactalis Builds Bikes in Manchester, NJ
Using strategy and creativity, employees joined together. Each attendee created teams and sifted through various clues. Judges gave input into an answer's correctness and passed out a bike part depending on the correctness. Once each team had a complete collection of pieces, they assembled their bike. You wouldn't believe the competitive nature that comes out during this time. People strive to be the first done and with the best bike. They truly take pride in what they accomplish.
As an added feel-good ending, Lactalis donated the brand-new bikes to the local Boys and Girls Club. We hope the kids are enjoying their bikes!