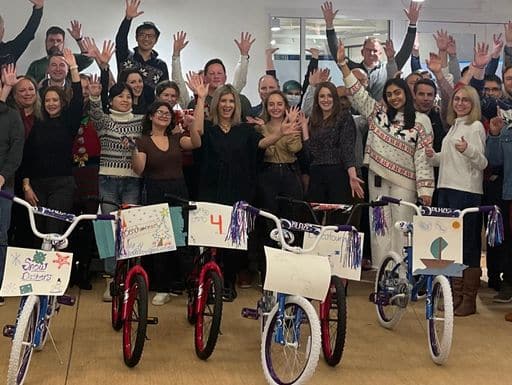 Biofourmis opened their doors after deciding to add camaraderie to their work day. Staff also wanted to have a more hands-on approach to team building by giving back.
Bioforumis leads by a single-minded idea of Powering Personally Predictive Care. They are a fast-growing digital health company. Their staff is full of committed, passionate people who care about empowering others with chronic conditions and giving personalized care. They want to give people with chronic, complex conditions the means to live better and healthier lives. Biofourmis pioneers clinically validated software-based therapeutics. This new development allows better outcomes for their patients, is more cost-effective and offers smarter engagement and tracking tools.
Healthcare Gives Back during Team Bike Build in Boston
Biofourmis wanted a fun, engaging activity that helped their community. Our bike team activity was the perfect event to accomplish this goal. Staff ventured out of their comfort zones by talking to people beyond their department. Breaking barriers in business becomes a necessity in order to continue finding success. Together, colleagues answered various clues and riddles. Each correct answer earned one part eventually obtaining all of the components to assemble a brand-new bike. The new bikes found new homes for deserving members within the community and were donated.
Biofourmis partnered with the Salesian Boys & Girls Club's Mike Triant to donate bikes. Mike attended the tail end of their event, gave insight into what BGC does, and took the bikes away for kids at the club.