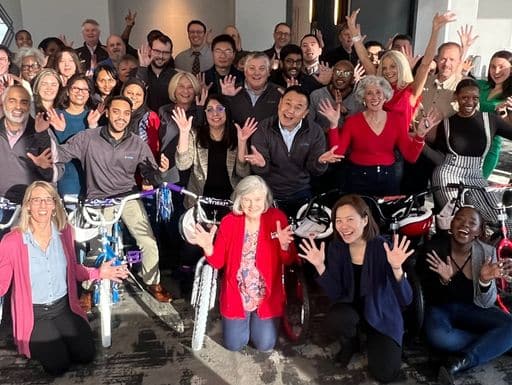 The National Group Corporation had reminders of the company's overall mission and goals for the year. While snacks and drinks were offered, their CEO (Tim) took the stand to revitalize the group. Our bike team activity was a fun piece to help align their goals and missions.
National Group is a subsidiary of ReAlign Insurance. They specialize in construction services. Specifically, they help commercial properties and facility managers maintain their spaces and prepare them for the unpredictable. Through the pandemic (and prior), National Group has learned to mitigate spaces against Covid, maintain construction, and provide top-notch roofing. Though it's a mouthful, simply put, National Group is a premier full-service remodeling and repair, restoration and insurance loss consultation company. Their headquarters are in sunny Florida. They're known for their integrity, expertise and commitment to their clients and the clients' projects.
National Group's Dallas Office Build Bikes
Debriefs whether before or after often help to strengthen or weaken a point. In this case, National Group wisely chose an activity that aligned well with its vision. Each attendee split into and created teams. This well-thought-out and strategic group ran through the clues and riddles they were given. Judges looked at the answers turned in. If an answer cleared the judges' standards, the team earned a bike part. Attendees were laid-back and knew how to check all their "to-do's."
A beautiful donation was quickly made to the Boys and Girls Club of Dallas. Everyone appeared to have a blast and were so glad to share some good with the community.