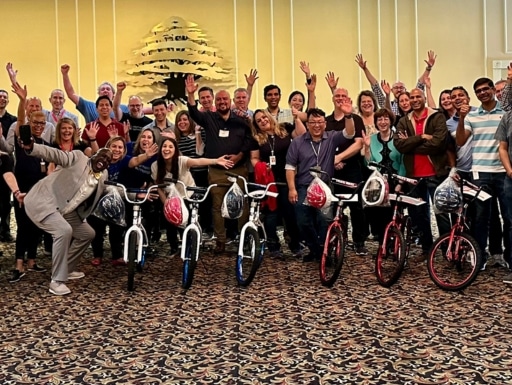 Forty participants from Nestle IT gathered for a Build-A-Bike® team building event in St. Louis, MO. The goal of the event was to bring together the IT department, fostering collaboration and teamwork within the organization. This event marked the inauguration of their new working environment and served as a highlight of their "One Team Week" conference, symbolizing their commitment to unity and camaraderie.
Nestle IT is the digital arm of the world's largest nutrition, health, and wellness company. With a rich history spanning over 150 years, Nestle is revolutionizing the food industry by leveraging technology. As part of the larger Nestle family, the company is dedicated to championing global humanitarian efforts while delivering essential products such as chocolate, coffee, and water to consumers worldwide.
Nestle IT Unites for Build-A-Bike® Event in St. Louis, Missouri
The Build-A-Bike® event served as an exciting platform for Nestle IT's diverse team to come together and collaborate. With the IT department undergoing various transformations in recent years, including team expansion and the establishment of new locations, the event aimed to strengthen the bond among employees. The engaging activity allowed them to break down barriers and build a stronger sense of unity. Ultimately, it helped contribute to enhanced teamwork and communication.
During the event, teams competed with enthusiasm and determination to assemble their bikes, showcasing their problem-solving skills and collective effort. Nestle IT employees embraced the challenge wholeheartedly, supporting and encouraging each other throughout the activity. The Build-A-Bike® event not only fostered a collaborative environment but also highlighted the company's commitment to providing a positive and engaging workplace for its employees.
We extend our sincere appreciation to Nestle IT for their generous donation. We also thank Fathers & Families for their cooperation in making this event a success.
Ready to enhance teamwork and collaboration within your organization? Book an engaging event from our full list of team building games in St. Louis, MO!