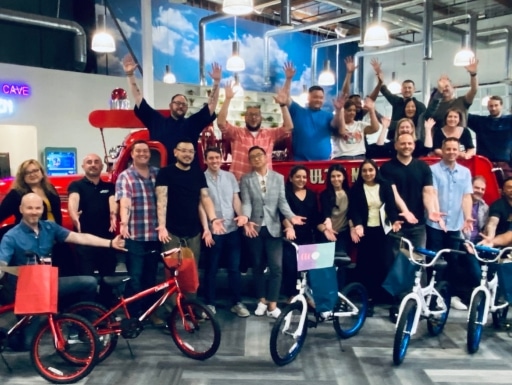 Thirty-five participants from Ultra Mobile came together for a Build-A-Bike® team building event in Costa Mesa, CA. The event aimed to conclude their conference on a positive note while also making a meaningful contribution to the community.
Ultra Mobile is dedicated to making wireless services accessible and affordable for all. With reliable coverage on the T-Mobile 5G Network, Ultra Mobile offers a range of plans to suit different communication needs, from unlimited talk, text, and data to minimal data plans.
Ultra Mobile Organizes Build-A-Bike® Event in Costa Mesa, California
The Build-A-Bike® event brought together the sales and operations teams of Ultra Mobile. As the conference came to a close, they wanted to engage in a team-building activity that would also allow them to give back to the community.
The participants exhibited great enthusiasm when they learned they would be donating the assembled bicycles to South Coast Community Services. This charity provides mental health services and support to under-resourced adults and children. The opportunity to contribute to an organization that often faces limited donations added an extra layer of excitement and motivation for the Ultra Mobile team.
Looking to create a memorable team-building experience while making a positive impact? Engage your team in one of our rewarding team building games in Costa Mesa, CA.
We extend our heartfelt gratitude to Ultra Mobile for their generous donation. Their contribution to South Coast Community Services will make a significant difference in the lives of under-resourced adults and children.