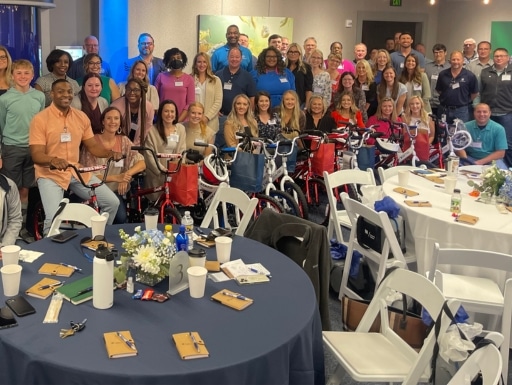 The Tennessee Valley Authority (TVA) gathered for a Build-A-Bike® team building event in Chattanooga, TN. With seventy-five participants, the goal for the event was to strengthen talent and culture within the organization. The team consisted of 90% remote employees. In fact, they were coming together for the first time to meet and connect in person. The event took place at the picturesque Tennessee Aquarium in Chattanooga, providing a scenic backdrop of live fish.
The Tennessee Valley Authority is responsible for providing electricity to millions of people in Tennessee and neighboring states, as well as offering flood control, navigation, and land management services for the Tennessee River system. With a focus on supporting economic development efforts, TVA plays a vital role in the region's growth and sustainability.
Tennessee Valley Authority employees unite for Build-A-Bike® event in Chattanooga, Tennessee
The Build-A-Bike® event provided an opportunity for the TVA team to enhance their communication skills and build camaraderie. As the majority of the team had never met in person, this event allowed them to finally meet face-to-face. Set against the backdrop of the Tennessee Aquarium, the event venue offered breathtaking views of live fish, creating an inspiring environment for collaboration and connection.
Got a remote team meeting for the first time? Break the ice with one of our engaging team building games in Chattanooga, TN!
During the event, teams competed to be the first to correctly assemble a bike. TVA even awarded their winning teams with Amazon gift cards as a prize. The participants, including a 14-year-old boy who joined his mother at the event despite having a broken foot, showcased exceptional teamwork and determination. Their collective efforts and the positive energy gradually brought out the true personalities of the team members. In turn, this helped foster a sense of unity and shared accomplishment. Working with TVA has been an amazing experience, and the event served as a testament to the organization's commitment to teamwork and community engagement.
We give a big thank you to Tennessee Valley Authority for their donation to children in need. We'd also like to thank the Boys & Girls Club of Chattanooga for their invaluable work in supporting the community.