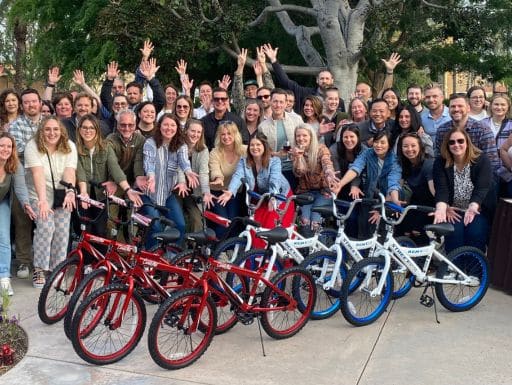 Opus Agency added a Build-A-Bike® team building event to the end of their conference. After a full day of meetings, the sixty-five team members worked together to build bicycles for children in need. Each team was highly competitive and eager to build their bikes faster than their competition.
Opus Agency, the flagship member of The Opus Group, has one mission: creating experiences that drive action for the world's most influential brands. They're a global full-service agency, offering end-to-end services that bring people together in-person, online, and everywhere in between. They offer content creation, marketing strategies, design, and much more to businesses in a number of industries. With four decades behind them and team members all over the world, they are able to help their clients reach people around the globe.
Opus Agency Brings Competitive Spirit to Bike Building Event in Anaheim, California
Opus Agency hubs are located in various parts of the globe, from Brooklyn to London. One group of managers, in particular, travelled all the way across the country to attend a conference in Anaheim, California. Their organizers decided a fun way to end the day would be with a Build-A-Bike® event. Despite a full day of meetings, this group had no intention of taking it easy. They were a highly competitive group that refused to reach out to the other teams for answers to their clues.
Even with the hint that all the information they needed was right there in the room, they were reluctant to reach out to their competition. In the end, they set aside their pride for the children of Stoddard Elementary School, who would be receiving the completed bicycles. Once they started working together, they saw just how quickly the exercise went, and they were able to build several bicycles for the children in need.
Thank you, Opus Agency, for your competitive spirit and generous hearts that helped make this charity event a success!