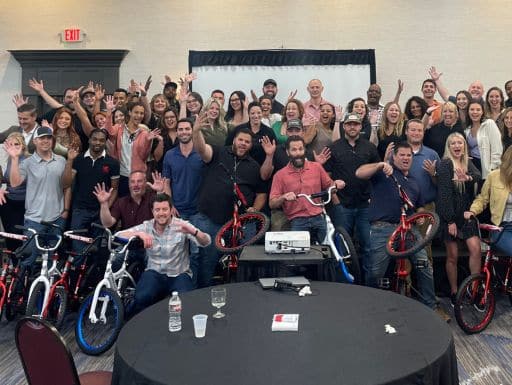 Brohn Homes added a charity event to their quarterly meetings, and this time, they chose a Build-A-Bike® team building event. The whole company of over eighty employees attended the event in Round Rock, TX. After a successful session of building bikes, their donations were able to make it to several children—including some of the children that live in the same homes they've built.
Aaron and Adam Boenig founded Brohn Homes in 2002. Their goal was to enhance the lives of their friends and neighbors, and they did so by building homes with quality construction, affordable pricing, and personalized service. Their aim is to create positive change nationwide by becoming the leaders in home building, as well as expanding into land and development acquisitions, master-planned communities, and other complementary services. As a private company, they're able to retain the control necessary to reflect their core values: designing and building for the people who will live in their homes.
Home Builders Build Bikes During Quarterly Meeting in Round Rock, Texas
Every quarter, Brohn Homes schedules a meeting for the entire company to attend. That includes everyone from plumbers, electricians, contractors, HR reps, and even the two brothers who founded and own the company themselves. The goal is to ensure that everyone is up to date with what's going on in the company. And while they're there, they've made it a point to use that opportunity to do some charity work.
Typically, Brohn Homes builds homes for the Austin metroplex. This time, they decided to use their skills to build bikes for children in need. Austin's Student Accessibility & Social Support Resources helped in bringing some kids that would be more than happy to receive the donated bicycles. The event came full circle as some of the children were actually residents of houses built by Brohn Homes!
Thank you, Brohn Homes, for choosing the Build-A-Bike® as your quarterly charity event!