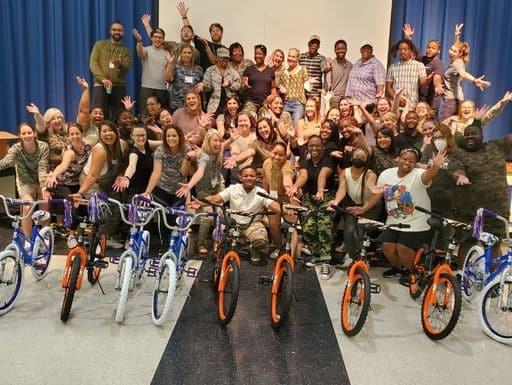 Rossville Elementary's staff enjoyed exploring their new campus by including a fun bike team event. We loved hanging out near Baltimore, MD with this group! It was so nice to help them explore their new work home.
Rossville's doors will open this fall for the 2022-2023 school year. Kevin Jennings holds the honor of being the first principal in the school's history. He also set a goal to build strong relationships between the school and the community. Rossville will provide the community with an engaging, equitable, and rigorous academic program. The school serves students in the northeast Baltimore area. Since the area is growing, this campus will give much-needed classroom space to local students.
Baltimore School Build-A-Bike ® Team Event
These educators are used to being in front of the classroom. However, they were the students this time. They learned about their new campus and community. Since this is a new campus, many of the teachers and administrators were meeting for the first time. Jennings wanted to add fun and begin to build a team culture with his new team. Our instructor, Toby, led the event and rated it as "the most energetic" group (of the week.) First, the teams raced to through fun team activities to earn bike parts. Then, once they earned all the pieces, they built each bicycle.
The teachers will donate the bikes to their Golden Ring Magnet School students in the fall. These middle school students participate in a curriculum focused on health sciences. All the students had to apply for admission, and the acceptance is pretty rigorous. So, the bicycles are an added benefit for these future doctors and nurses! Since the students take special classes related to the health sciences, staying fit by riding bikes is a great fit.
Want to add a bicycle team building activity to your meeting or in-service? Just click the link for more details.