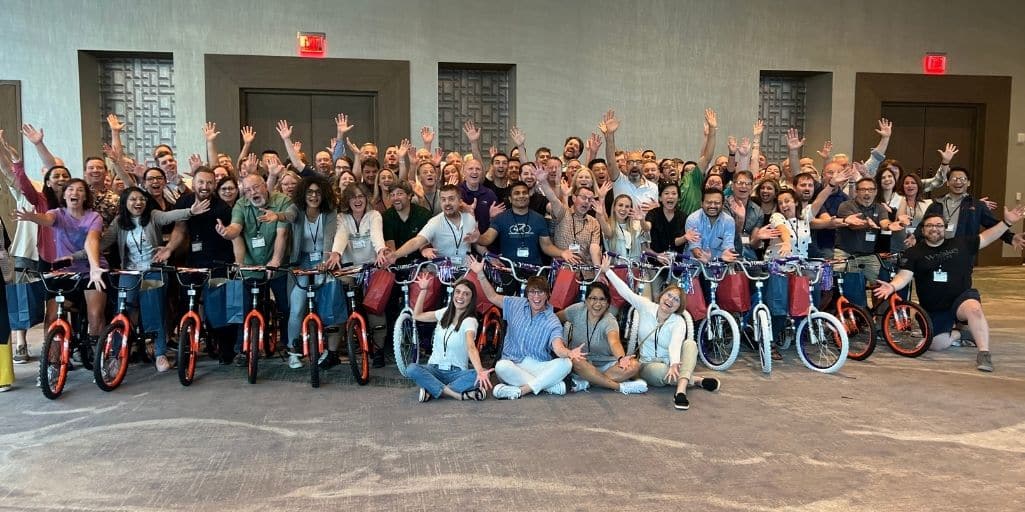 Meeting people for the first time can be a bit nerve-wracking. Not for the group of new team members from Planview, though! This Austin-based software company organized a team meeting to welcome staff from two new companies that they acquired.
Planview is a global enterprise software company headquartered in Austin, Texas. They are both an industry leader and innovator. Their software offers clients a one-stop site to manage projects. Planview supports 2.4 million global users by prioritizing projects and tasks.
However, they recently bought two companies to broaden their portfolio and work management solutions. So, this meeting was the first time that three teams got to meet each other. The leaders chose to gather the new team at the home office in Austin.
Planview Software Solutions Company Builds Bikes for Kids in Austin, TX.
And Austin didn't disappoint. Participants definitely got to see some of the "Austin weird" through the windows. (This is an inside joke… Apparently, the adjoining building housed downtown apartments. And the neighbors also don't necessarily always close their blinds, lol.)
Luckily, Planview's staff were good sports. The "view" allowed for interesting conversation and energy (and a little uncomfortable laughter.) Of course, Brandon Woodside, the team-building facilitator, used this distraction as a way to insert lots of humor. After hearing the snickers from the group, he saw an opportunity. Thinking fast, he added the phrase, "And this team building activity is sponsored by… Hanes."
Obviously, this was not the typical team-building activity for charity. But, then again, we specialize in making meetings more fun and memorable. This one certainly was! The team had a blast building bicycles for local kids.
They donated their bikes to SAFE. The SAFE Alliance is an Austin human service agency. It provides resources from advocacy to shelters for survivors of child abuse, sexual assault and exploitation, and domestic violence. Its doors originally opened in 1984 and has continued growing. They gained accreditation in 2021.