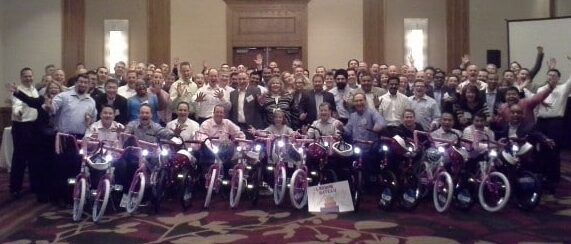 Saavis Corporation, an IT technology company chose to hold the Build-A-Bike ® team event in St. Louis, Missouri to energize their team managers from the U.S. and around the world at their annual meeting. They were looking for a fun team event at the end of their conference to encourage their team to work together more efficiently. The majority of these managers only see each other a couple of times a year, so the company wanted to have a fun team event that would bond them and create a better team culture.
Trisha Clay, the event coordinator selected the Build-A-Bike reg; event to energize the group after their two-day conference held this year in St. Louis, Missouri. After their conference ended in the late afternoon, the eager participants poured into the room for the bike build. The participants hurried to their respective equally divided teams where they would begin.
Saavis Corporation Builds a Bunch of Bikes for Kids in St. Louis.
The winner of the first activity was awarded a head start to begin building the bikes. All the groups were instantly energized and feverishly working to compete with the other teams to win the advantage. The teams learned to work together creatively and efficiently to solve their given clues as fast as they could to obtain the bicycle parts they needed to complete their bikes. You could see that the teams learned to interdepend on the other groups in order to be successful.
When all bikes were finally completed, everyone formed a large group to celebrate the completed challenge. The bikes would ultimately then be given to the local charity of their choice and distributed to children. So if you are looking for a way to spice up your next convention or meeting with a charity component, then you will want to add a Build-A-Bike ® team event to end your conference to provide an energetic and positive experience.
If you want information about how your team can organize a "team bicycle build" click this link. For a list of all of the fun team building events in St Louis, click here.