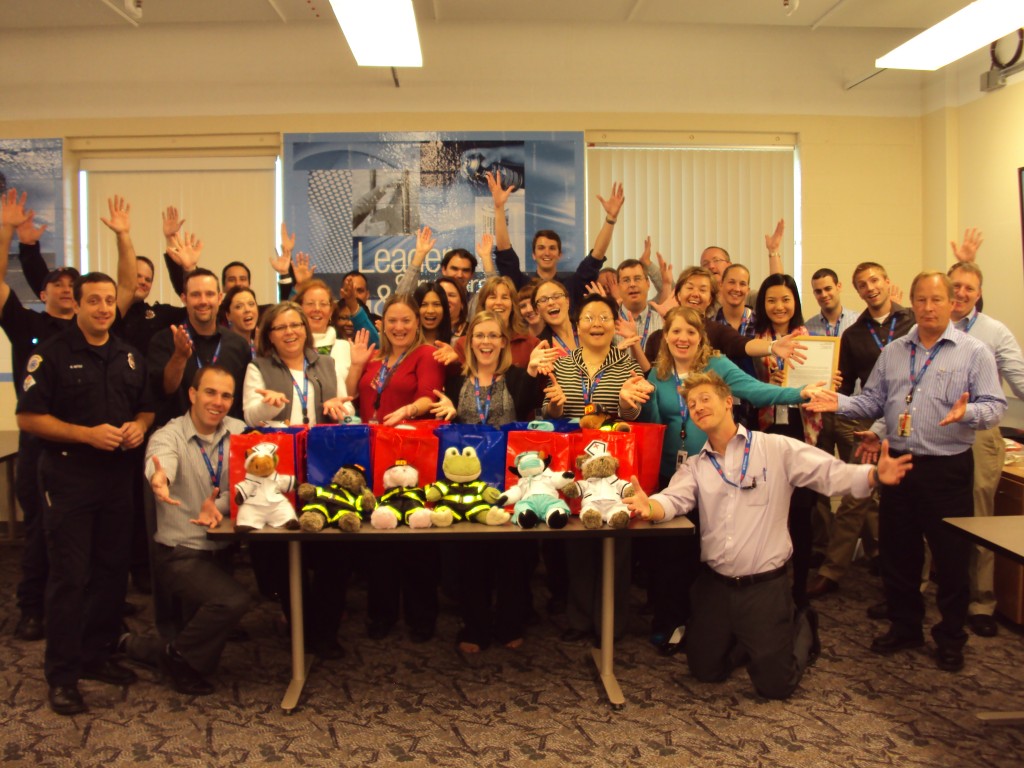 Over 30 people from the I&TB Business accounting Center of 3M came together for a day of meetings that culminated with the building of 18 stuffed animals that were donated to the St. Paul Fire and Rescue Department. 4 professional EMT's were present at the end of the afternoon Rescue Bear ® Team Building Event to receive the animals and say thank you to 3M for the donation. The stuffed animals are used in first responder vehicles to help with children involved in traumatic events. The activities of the afternoon included some very fun activities that incorporated valuable lessons on leadership and team building. Amidst the laughter, games and projects the participants were also given time to think over important principles that they can put into practice.
During the team building event personality and temperament were explored. It was clear that through the activities people understood a little more about how personality and temperament plays into our every day behavior. Often times that behavior can lead us to interact most with people who are most like ourselves. The problem is that when we work in homogeneous units we fail to capitalize on the strengths of others who could be in the group. When we surround ourselves with personalities most like our own we are missing a key ingredient to seeing a total or whole picture. Many teams are formed this way and short-circuit the effectiveness of the team because key ingredients to the whole are missing by the neglect of having a rounded team that includes the various temperament styles.
The Rescue Bear Team Building Event helps expose how silos in the workplace are formed and how to break out of that mold. It was a fun and experiential learning event and there was a great feeling about giving back to the community in this significant way. 18 stuffed animals made and contributed will make a difference in the lives of traumatized children as the event made a difference in the lives of these wonderful people from 3M.
For details about a Team Building Event in St Louis, click here.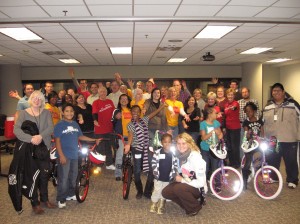 Wells Fargo builds stronger relationships amongst co-workers by hosting Build-A-Bike® team building event in Minneapolis, Minnesota.  By doing the Build-A-Bike® team building event, the Wells Fargo team learned things about each other they didn't know before, and had to come up with answers to questions that required people to work together instead of working in isolation.  When the kids came in to receive the bikes at the end of the event, it was a complete surprise for the participants.  They left knowing they had made a difference in these kids' lives, and knew each other a little better than they did before the event.

Bringing members of a company together through a team building event is a great way to strengthen relationships and interact with people in a different atmosphere.  While we often work as islands in a day-to-day work setting, participating in an event filled with teamwork activities can help build stronger relationships in the workplace, which make people more likely to work together to solve problems in the future.  Plus, everyone had fun working together to build bikes for kids who value them more than the participants could ever know.  The Build-A-Bike® team building event is a great way for companies to bring co-workers closer together, while also giving back to the community, whether you are in Minneapolis, Minnesota, or any other city in the U.S.