Technetics Group provides an unmatched combination of engineering and manufacturing expertise to solve your most difficult design and performance problems, accelerating time to market and improving cost-of-ownership from Lab to Fab. We combine five decades of experience in producing the finest quality components and assemblies with leading-edge capabilities in chamber technology, advanced coatings, engineered surface treatments and testing.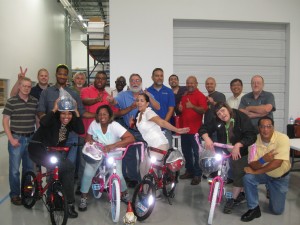 The Build-A-Bike event teaches teamwork skills through a series of challenges which the teams are to complete. The tasks encourage the teams to think outside the box to come up with solutions. While they are learning to work efficiently as a team the employees of Technetics Houston along with some colleagues that traveled from South Carolina were also having fun. The contact person, Maricarmen said this company is very competitive, they actually compete for a traveling gnome and it was time for it to stay in Houston. The overall lesson is that everyone works together to reach the same goal, the groups were mixed up so Managers from Human Resources and plant managers all worked together. Although this group was competitive they also exhibited real teamwork, some went from group to group assisting each other in solving the clues. The YMCA was the charity arranged to receive the bikes the group built. The age of the kids are six to eight years old and they were so excited to get their new bikes in addition the Technetics group also provided snacks and drinks for them as the kids received their first riding lesson in the parking lot. Mike from South Carolina said "Thank you for a great day, this was amazing and so much fun to be apart of"
---
Author: Abigail Orru, Date Published: June 18, 2013
Abigail Walsh is an instructor for The Leader's Institute ® based in the Dallas, Texas Region. She is a specialist in philanthropic team building as well as public speaking classes.
More Articles Like This... Case Studies • Build-A-Bike ® Tagged with: build-a-bike • houston • Texas

---