Houston Texas Team Building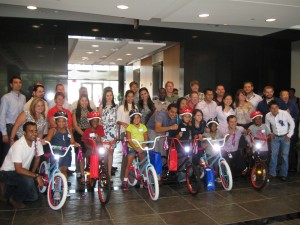 Houston Texas Team Building: Our Texas-based instructors conduct a lot of team building activities in Houston and the surrounding area. Some of our bigger clients, including ExxonMobil, Baker-Hughes, and Schlumberger are based in Houston. We offer all of our team building activities in Houston, Conroe, Huntsville, and Galveston. In addition, one of the most popular activities in this region is the Build-A-Bike ® team building event. However, we also conduct a number of Ace Race ® and Rescue Bear ® events. We even once conducted a Camaraderie Quest inside the Galleria Mall for a client. For details about any of these programs, click either of the links below or complete the form below.
Team Building Events in Houston, TX.
The Leader's Institute – Houston ®

5847 San Felipe St #1700
Houston, TX 77057 US
Phone: (713) 554-2789



A Few Recent Houston Texas Team Building Events.

Baker Hughes Inc Build-A-Bike in Houston, TX Baker Hughes hosted the Build-A-Bike ® team building exercise at the La Toretta Lake Resort and Spa in Montgomery, TX for 80 of their sales team. A top-tier oilfield service company with a century-long track record, Baker Hughes delivers solutions that help oil and gas operators make the most of their reservoirs. Collaboration is the ...
Technetics Group of Houston Texas Build A Bike Technetics Group provides an unmatched combination of engineering and manufacturing expertise to solve your most difficult design and performance problems, accelerating time to market and improving cost-of-ownership from Lab to Fab. We combine five decades of experience in producing the finest quality components and assemblies with leading-edge capabilities in chamber technology, advanced coatings, engineered surface ...
CSM Bakery Products Houston Texas Build-A-Bike In Houston Texas CSM Bakery Products brought their plant managers from all over the United States for an operations meeting. Scott Chaney, the plant Manager of Houston decided to end the day with the Build-A-Bike program to benefit some kids in their community. CSM Bakery Products is a wholly-owned subsidiary of Amsterdam-based CSM, the global ...