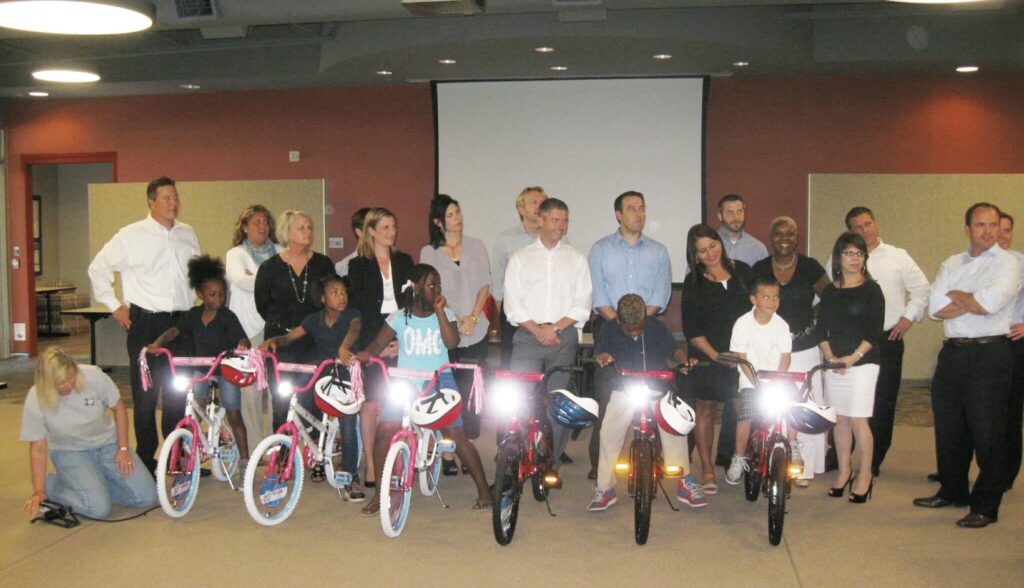 HealthPoint of Fort Worth, Texas recently hosted a Build-A-Bike ® team exercise. The entire group all work for the same company but they typically only speak to each over the phone. So we used a fun charity team activity to help them get to know each other face-to-face.
HealthPoint is committed to investing in the discovery and development of scientifically sound, cost-effective pharmaceuticals, and biologics. Their experienced Research and Development team helps accomplish their mission by bringing novel biologics and pharmaceuticals to market. They have a determined focus on improving clinical and quality-of-life outcomes in a patient's wound care.
Healthpoint in Fort Worth Helps Kids While Building Their Own Team.
This group works in two different locations. They speak daily on the phone but they had never met in person before the activity. The group consisted of District Managers and HR department employees. Chelsea, the organizer didn't tell the group what they would be doing. The event was a total surprise. So, when they walked into the room, we heard comments like, "I don't know how to build a bike". Of course, their fears were unfounded.
Build-A-Bike ® uses a series of challenges and activities to encourage team building. The activities are meant to be something of a caricature of behavior we can see in the workplace. The exercises brought out the playful side of all the participants and "this was a perfect way to bring a group together for the first time," said Chelsea.
HEALTHPOINT believes in the importance of giving back, community participation is more than just an idea we encourage––it's one of the core values that guide our practices. From our perspective, community involvement is one of the defining features of a health care company.
If you want information about how your team can organize a "bike build for charity" click this link. For a list of all of the team activities in Fort Worth, TX, click here.
The Boys and Girls Club of Fort Worth and Roland Greene accepted the bikes along with the kids. The kids from the greater Fort Worth area were so excited about their new bikes, the first for all of them.