A fun team from the Texas A&M Transportation Institute (TTI) met at their office in San Antonio, TX, for their annual meeting. This was just the second time for the entire group to meet in person since the pandemic. And they had a few new faces in the group as well.
The institute is a state agency within the State of Texas and also a part of the Texas A&M system. In essence, they are a transportation "think tank." They create innovative solutions to transportation challenges.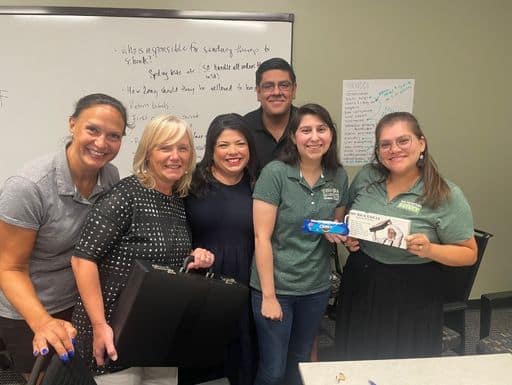 For instance, have ever driven back to Texas from a neighboring state? Did you notice how the moment you crossed the state line, your ride got a little smoother? That clunk, clunk sound that had been driving you nuts for the last two hours just disappeared.
There is a good chance that a researcher from TTI's asphalt innovation center was the reason. This organization also researches the structural integrity of bridges and overpasses. Their expertise is used in thousands of different ways in all types of transportation mediums.
A Fun Team Escape Room Added Teamwork to TTI's Regular Meeting.
This group had an absolute blast competing in the My Rich Uncle team building escape room. We started the session by creating two random teams. They had fun eliminating team members from a team game similar to (but a tad more sophisticated) Simon Says. As teammates were eliminated, they were assigned to one of two groups in the room.
When only two of the team members were left playing, we made each one of the team captains. Then, the race was on. Each team received copies of their wealthy uncle's personal documents.
Uncle Roland hid the combination to his briefcase on the pages of these documents. Then, he liquidated his entire estate and left the proceeds locked inside the briefcase.
The first team to unlock the case was to inherit the entire estate. So, the TTL groups competed to identify each of the six digits in the briefcase lock. They laughed hysterically as they discovered each digit. The pressure was on at the end, though. Both teams had five of the six digits they needed.
Then, team one found a hidden key in a very unlikely place to get the last digit. Team two groaned as their competitors (and teammates) solved the final puzzle.
Want to have a team escape room for your group as well? Just click the link for details.