The My Rich Uncle Virtual Escape Room Team Building Activity
👍 Great for Teams that Love to Solve Problems
📊 Improves Remote Collaboration and Critical Thinking.
This virtual escape room for team building will make your next Zoom meeting a big hit! Your eccentric and wealthy Great-Great Uncle left an eccentric will. He liquidated his entire estate, and all the proceeds are locked in a briefcase. If your team can unlock all six digits of the briefcase combination lock, you become the heir to the dynasty. All six digits are hidden within your uncle's personal documents that are stored virtually. Your team must race against other teams to be the first to unlock the treasure!
⏰ 1.5 Hours | 👥 6-150+ People | 💲 (from $35/person)
Make Your Next Zoom or Teams Meeting Fun with a Virtual Team Game.
In
My Rich Uncle
your uncle's briefcase is locked with a six-digit lock,
The first team to open the case wins.
Unlike most escape room team building events, the goal of this activity is for teams to solve the puzzle. (Most escape rooms are created so that teams are more likely to fail.) The fun here is that when teams work together they start to communicate more clearly with each other. When this happens, they solve the puzzles more quickly.
As the groups discover the solutions, a picture of the uncle's life and accomplishments becomes more clear. In fact, your uncle checked off a lot of "bucket list" items. As a result, he lived an extravagant lifestyle. So, even while your team is viewing the program virtually, they are able to take a "mental vacation" and explore the world through the characters in the story.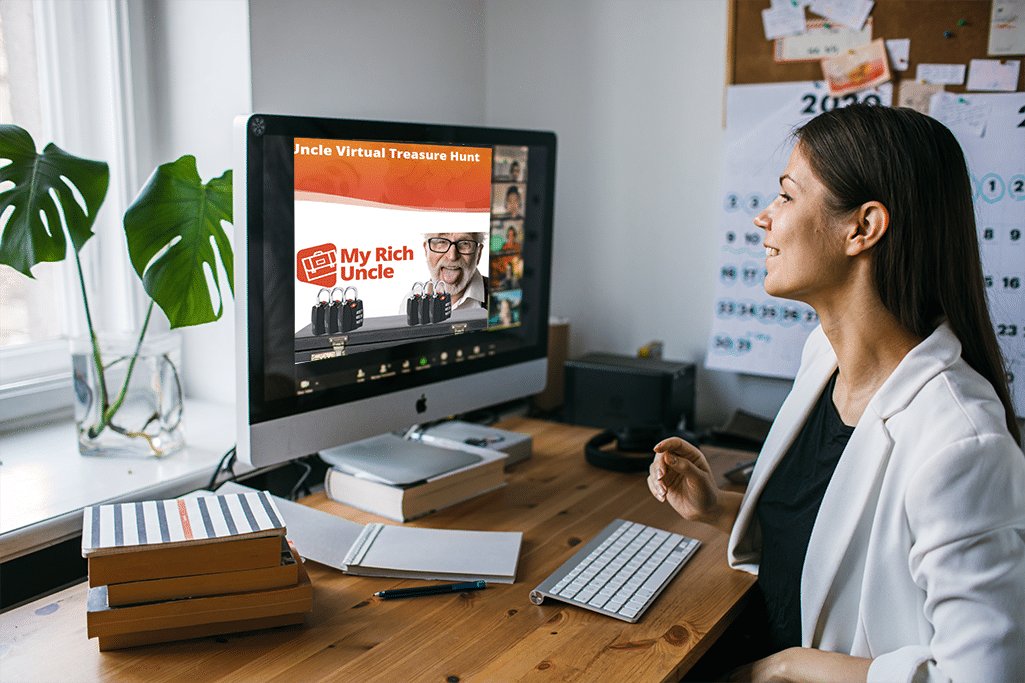 Cash Prize or Charity Donation
This escape room team building activity is really fun and rewarding as well. Once a team is able to open the briefcase, the winning team will find either a prize for the team or a check to a charity. (It's really your choice.) So, the conclusion is really up to you, the organizer. Some groups prefer that the winning team receive gift cards or even cash prizes. Other groups like to make a donation to charity. Some groups like to do both.
This is a great way to conduct a charity team building event on a budget. Your team will have fun, learn to work together in more effective ways and do something for their community.
R. I. P. Uncle…
To learn more fill out the form below and we will send you more information!