Insurance Designers added a little competition for charity to their annual meeting this week. A couple of years ago, they had us deliver a charity bike build for their group. So, to do something a little different, this year, they had the group do a charity mini-golf course team activity called The Ace Race ®.
Insurance Designers is an Independent Marketing Organization (IMO) that helps life insurance agents market their services nationwide. They help their member agencies grow their businesses. They also help their members provide customers with the absolute best insurance solution for their needs.
Insurance Agents Compete in Fun Golf Event for Charity.
The group had agents from dozens of different insurance companies. They wanted to both network and do something nice for the community. Since they had been in meetings all day, they wanted to jazz up the early evening a little. So, they had a nice dinner at the hotel (along with a couple of drinks.) Then, they returned to the banquet hall for the Ace Race ® activity.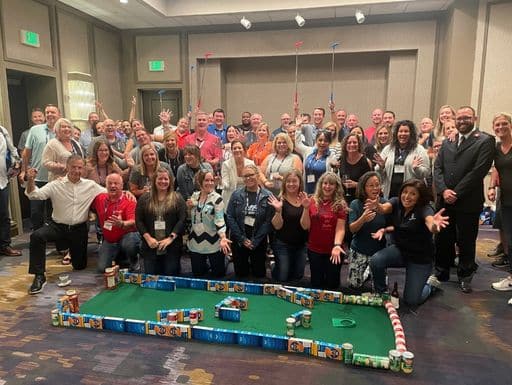 They built an entire mini-golf course out of non-perishable food items like canned goods and Mac & Cheese. Then, once they completed the building part, the race was on. Teams moved from hole to hole, trying to get a hole-in-one on each hole before the other teams.
The group displayed a lot of energy as well as a few high-fives along the way.
Once a champion was crowned, they donated the food items to Cody Johns of the Salvation Army. He mentioned that their food pantry was in very high demand at the moment because of the downturn in the economy and the high inflation rate. "Your donation is a welcomed gift for dozens of great families here in Irving."
Thanks to Insurance Designers and the Salvation Army for giving back to your community.