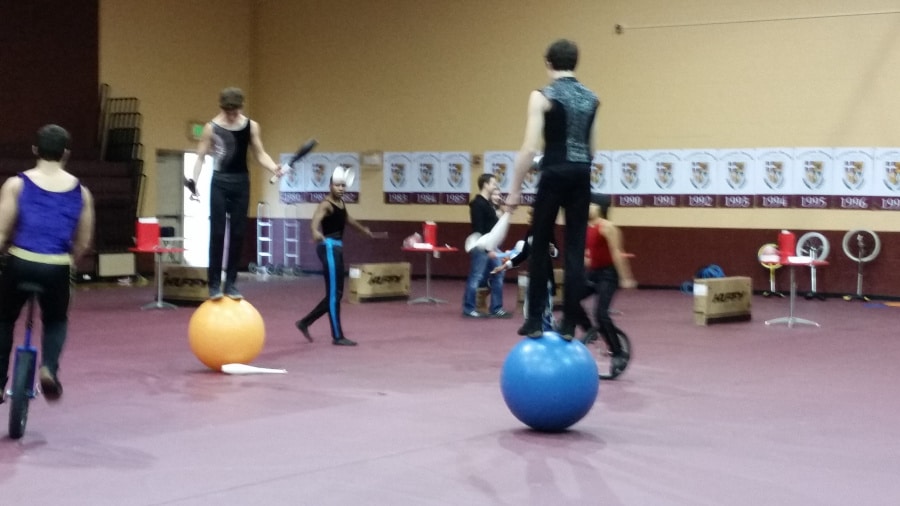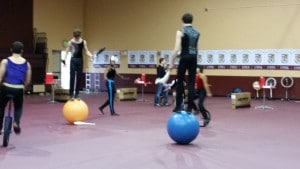 Wow, the Young Presidents Organization (YPO), created an incredible Christmas Build-A-Bike ® in St Louis, MO. In addition to the 18 bikes they were building and giving to local families, the YPO decided to adopt all the families and provide them with gift cards, beds, and many other presents. For several hours volunteers gathered the gifts to hide behind black curtains. YPO also hired jugglers, face painters, balloon sculptors, and a magician to entertain the many children who were invited to the event. (Hard to get a good photo of the acrobatics – those teens were in constant motion!) But even with all those enticements, many of the littlest children wanted to help their parents create cheers to celebrate their YPO spirit. Some small tykes even grabbed the microphone and led the song or poems.
Children and their parents gathered around the box of parts and began to build their bicycles. There were some mishaps – handlebars needed to be reversed and seats needed to be tightened but soon all the bikes passed inspection.
Each of the bicycles was labeled with the name of the recipient. When all the bikes were built a group of unicyclists led the local recipients into the gymnasium. Each child ran to find the bike with their name on it — a bike built specifically for them. Soon many children were trying out their bikes, riding circles around us. Then for the next surprise as the black curtain was unveiled and the families saw a mound of unexpected gifts. There were many tears.
The YPO Organizer mentioned to the instructor, "Thanks for all your work on the event and your flexibility."
This Christmas Build-A-Bike ® took place at Cardinal Ritter College Prep, 701 West Spring St., Saint Louis, MO on December 6, 2015. Laura Lewis-Barr facilitated the fun!