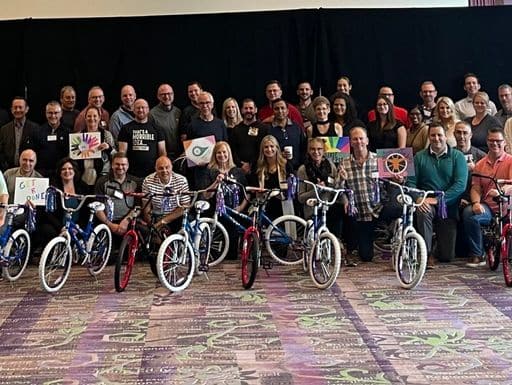 While most of us were stuffing our faces, a group of Canadians invaded Austin. Attendees participated in our charity bike build amidst their conference in the states.
They are an award-winning live experience firm recognized worldwide as a leading creative force in large-scale events. Fifth Element stemmed from industry professionals that saw a need in the event market for truly excellent service. Staff filled this need through the collaboration of all of their talents and using those talents to complement their coworkers' skills. Through the years, Fifth Element has gained a reputation by listening to and providing its clients with well-thought-out strategic and creative events and programs. Their work transcends into campaigns, gatherings, fundraisers, conferences, and even celebrity weddings.
Fifth Element Event Planners Complete Bike Build in Austin, TX.
Rebecca Rivas, our instructor, spearheaded this large holiday event by working alongside and in detail with Ronan Powell. Together they made certain every piece and time put into this activity was pristine. Participants warmed up their creativity during icebreakers that played into their personalities. Those personalities built teams. Each team received clues that they had to work through to answer and decipher. Judges, specially assigned this separate role, looked at each team's clues and deemed them right or wrong. A bike part was given to the right answers. Teams returned to the drawing board for wrong answers. Once each team obtained all of the parts, they assembled a brand-new bike.
The ultimate end to their event was the wonderful donation to the Austin Boys and Girls Club- Thanks Amanda for making that pick-up happen during the holiday! Want to organize a team activity for your group? Click here.