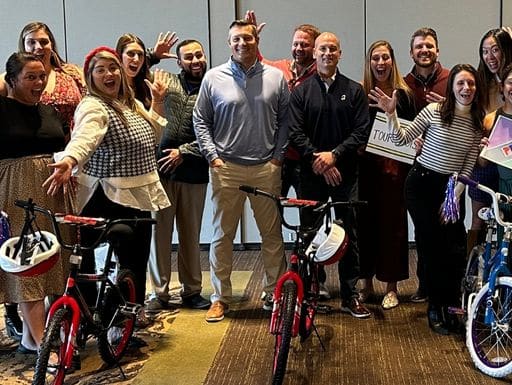 Traveling around the holidays can be stressful. E & J Gallo employees might beg to differ as they ventured away from the hubbub of DFW to Scottsdale, Arizona. They chose to incorporate a charity team event into their end-of-year meeting to add some fun and give back to the community!
E & J Gallo is a family company that values integrity, respect, and humility. Notably, they have an unmatched commitment to sustainable growth in all occasions. Much like other wineries, the Gallo family began in Modesto during September 1933. Spanning three generations now, E & J Gallo is one of Glassdoor's top Best Places to Work. The family put strategy into their locations and can be found across the country and abroad.
EJ Gallo Builds Bikes to Give Back to Kids in the Greater Phoenix, AZ Area.
This predominantly female group was a good sport when it came to the energy and enthusiasm of team-building. They really dug into each task our instructor, Chris Springer, gave them. The team bike activity was a perfect supplement to the company's year in review and goal-setting. Following the company's compass of values, staff met at the beautiful Westin Resort in Scottsdale, Arizona. Playing with each attendees' personality, everyone split into teams. Teams doled out clues and riddles. Each riddle required special consideration by the designated judges. Judges deemed answers wrong or right. Each answer earned pieces that ultimately turned into a wonderful holiday gift.
E & J Gallo wanted to do more with their goal-setting by giving back. In order to accomplish this, they donated their newly assembled bikes to deserving kids within the community.