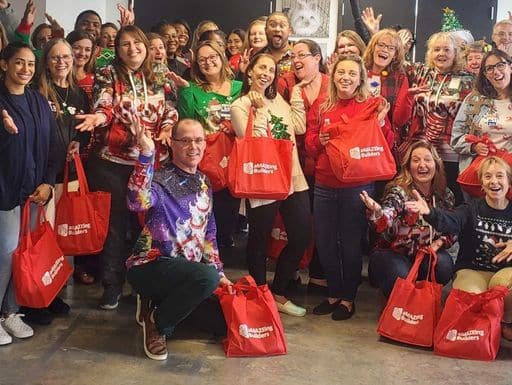 To compliment their kind and compassionate service, HCA staff added a custom charity team building event to the tail-end of their workday. We brought a little fun and competition into their collaborative team.
HCA prioritizes everything to the commitment of care and improvement to human life. They are one of the nation's leading providers of healthcare services. The future is bright as HCA continues to work towards more transformational clinic care. The continued vision created by its founders of car going beyond brick and mortar stands true today. Each site has a collective focus on its patients and thus impacts beyond the care they give.
Floridians use Team Building Activity to Give Back

Our AMazeing Builders activity is the perfect way for participants to be creative and strategic. Our instructors are really good at creating complex routes for their events. HCA members split duties among their teammates. Once a certain staff picked their duty or completed their task, they could not take on an extra task elsewhere. There's no double dipping here! A special staffer chosen gets blindfolded. While blindfolded, they must navigate through the maze shopping for each required item. As impossible as it seems, these navigators are guided by special code words. It's all about speed, communication, and listening. What one team is saying may be to trick or cause challenges for your team.
With our custom events, you're a bit more in the driver's seat on where the donation goes! In this case, HCA felt driven to donate to the Humane Society. We helped curate special request items they needed and fit them to the activity.