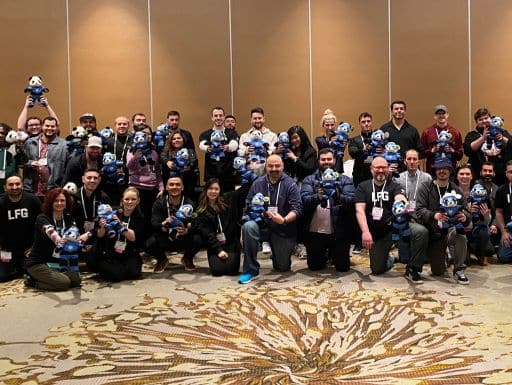 A team of nearly seventy employees from Malwarebytes gathered for a Rescue Bear® team building event in Tucson, AZ. The team was a little bit sleep-deprived, but they found their second wind when they realized their efforts would go toward a great cause: helping children in need.
Malwarebytes started as a community project, originally intended to help just one person with their malware problem. Since then, it has grown into a cyberprotection and privacy company that uses AI and behavior-based technology. Malwarebytes is trusted by businesses of all sizes, institutions of all kinds, and even your every-day individuals. Their team is committed to rid the world of malware and provide the best cyberprotection available.
Cyberprotection Team Stuffs Teddy Bears for Children in Need in Tucson, Arizona
At first, the Malwarebytes team was a little sleepy for this 9 am event. They'd just finished a long day offsite in Tucson. Then, they attended an awards ceremony that went late into the night. When the next morning finally rolled around, they were understandably a bit exhausted. That didn't keep them down for long, however. They quickly perked up when they learned they'd be assembling adorable teddy bears for children in need.
In order to ensure that the newly built bears would be going to a new home, United Way of Tucson teamed up with local school districts to help find children in need. Thanks to their efforts, the Malwarebytes team was able to drum up enough energy to put their efforts toward a great cause.
Thank you, Malwarebytes! Your contributition to the children of Tucson won't be forgotten.