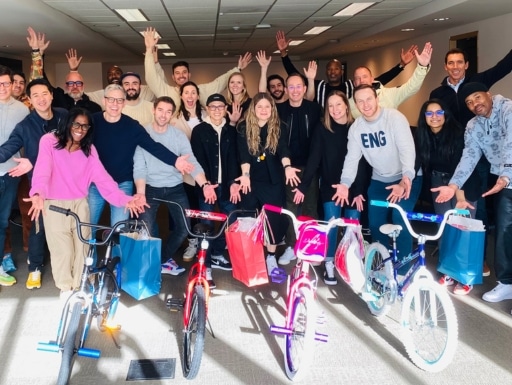 Nike, the renowned global brand in the athletic footwear and apparel industry, participated in a Build-A-Bike® team building event with thirty employees in Portland, OR. The event aimed to bring together this small group from the Nike team for fun and teamwork. At the same time, their gathering also created to a meaningful contribution to the community. They generously donated the bikes they built to Big Brothers Big Sisters Columbia Northwest.
Nike is a leading athletic footwear and apparel company known worldwide for its innovative products. With a strong focus on performance and style, Nike has established itself as a prominent brand in the sports industry. It goes without saying how much they've inspired athletes and enthusiasts alike.
Nike team building event empowers youths in Portland, Oregon
A group of thirty employees from Nike came together to collaborate and make a positive impact on the community. As passionate individuals within the Nike team, they enthusiastically engaged in the event's activities, fostering teamwork and camaraderie.
One of the highlights of the event was the decision to donate the bikes to Big Brothers Big Sisters Columbia Northwest. This organization plays a crucial role in the lives of young individuals by providing mentorship and support. The Nike employees were thrilled to know that their efforts in building the bikes would directly benefit the children in the program, allowing them to experience the joy and freedom of riding a bicycle.
We give a big thank you to Nike for their commitment to helping charities like Big Brothers Big Sisters Columbia Northwest.
Looking to create an impact in the community while building up your team? Join us with one of our team building games in Portland, OR!