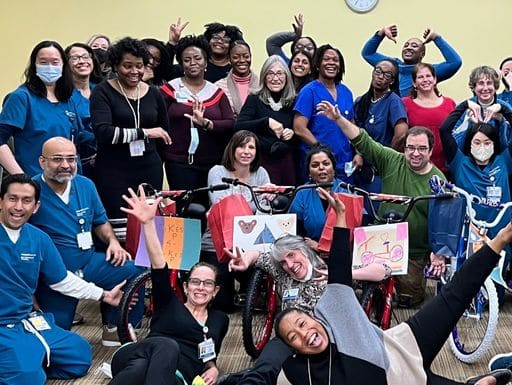 The Mid-Atlantic Medical Group completed our Build-A-Bike® activity to break the normal work day up with something fun. As a nice break to the workday, staff broke out into teams and after had a nice giveback to the community. Our bike build was the perfect way to both have fun and give back.
Mid-Atlantic Permanente Medical Group is one of the nation's top premier multi-specialty groups. They work independently from and exclusively with the Kaiser Foundation Health Plan. The group works together to shape the future of health. Mid-Atlantic uses a unique model of care to help succeed in making and keeping patients well. Their staff work seamlessly across disciplines to provide better care and processes. The Permanente model welcomes world-class talent and gives all employees the tools they need to succeed. Permanente Group is backed by research, has unparalleled expertise, and convenience.
Mid-Atlantic Medical Group Builds Bikes in Maryland for Community
Mid-Atlantic had a lovely event that markedly improved communication and team dynamics. Staff entered the space ready to go. From there, they split into teams. Each team strategically and with speed answered each riddle given to them. The answers were critiqued by judges. Their answers either earned a bike part or sent the team back to the drawing board. Once the teams completed their collection, they began assembling a brand-new bike.
In the end, the Mid-Atlantic Group wanted to give back to the community by donating bikes. The Catonsville YMCA found great homes and grateful kids to receive them.