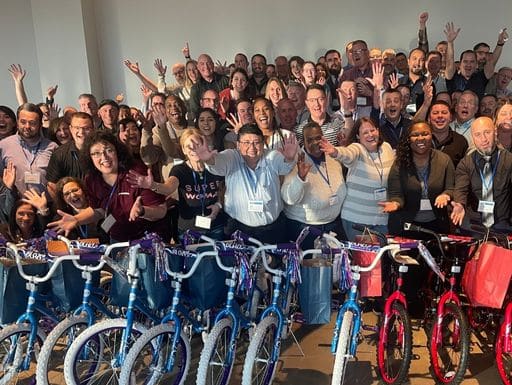 Penske leaders invaded Arlington's new hotel, Live! at Loew's. As a supplemental break out to their conference, leaders completed our bike team building activity. Besides the activity itself, employees had an internal giveaway to families.
Penske has longevity amongst its leadership team. That longevity helps to create more comprehensive logistics solutions for their customers. Nissan and GM honored Penske with awards in 2022 commending their partnership. They help companies boost efficiency, drive costs down, and increase customer satisfaction by providing turnkey solutions to their customers. The company provides services ranging from transportation management, freight distribution, and supply chain consulting.
Penske Builds Bikes for DFW Community
Penske brought energy into the room and clearly communicated in preparation for the event. This competitive bunch raced through their clues in hopes of assembling their bikes first. (Who knew leaders were so keen on out-doing or placing first over their coworkers?)
Attendees also worked together to figure out various clues in order to earn a bike part. Each team took special pride in assembling their bikes. All of the staff's sneers and jokes made offered light and humor to the room. Altogether, participants used their collective expertise to answer everything we threw at them.
The feel-good moment of the event was the company's internal giveaway. Each bike built by a team was given to a family within the company. What a nice gift before the holidays!