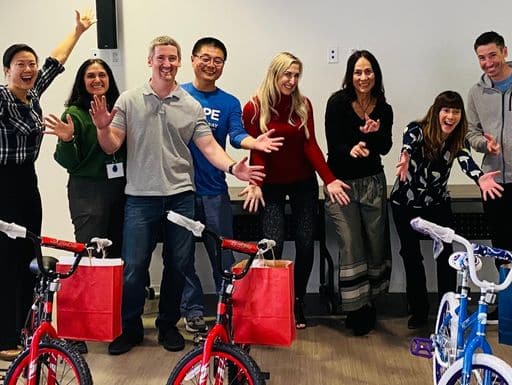 Bionano Genomics had an awesome and engaging time with us recently. As a precursor to their afternoon, staff met before taking off for the day. Bionano Genomics completed our charity bike build activity.
Bionano Genomics commits to unlocking the understanding of genome biology. They hope to advance the promise of genomics in areas including cancer and human disease, agricultural bioengineering, and genome discovery. Bionano is unafraid to venture in search of answers. Staff is encouraged to be curious and enquire past the status quo. Basically, Bionano is invested in the success of its customers and users around the world. They are dedicated to supporting users and customers with the tools, resources, and support they need to achieve their goals. Truly, they want to help make a real impact on improving the quality of life for all.
Bionano Genomics Builds Bikes in San Diego, California
Bionano Genomics was a small but mighty group! The teams were absolutely determined to solve the questions on their own to earn the bike parts. They eventually realized that was impossible. Equally fast, they learned to reach out to other teams, who had the information they needed for the questions. A great lesson for them to learn about teamwork while having fun at the same time!
A great non-profit, SAY San Diego, was the lucky recipient of and gifted the bikes built. SAY San Diego partners with youth, adults, families, and communities to reach their full potential.