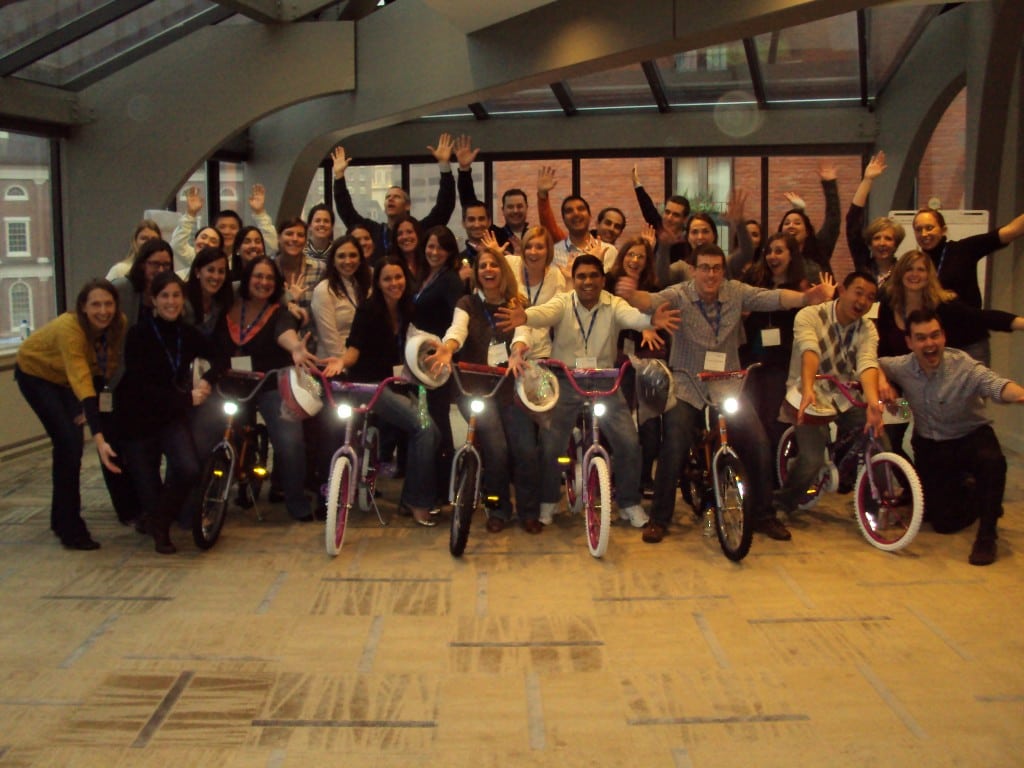 PRA, a contract research organization (CRO) in the pharmaceutical industry hosted a Build-A-Bike ® team building event for their annual meeting in Atlanta, Georgia.  This organization provides support to the pharmaceutical and biotechnology industries in the form of research services outsourced on a contract basis.  It is a highly technical field in that a CRO may provide such services as biopharmaceutical development, commercialization, preclinical research, clinical research, clinical trials and management.  Their meeting was for the management team and also for the sales team in charge of acquiring new studies.  Their theme for their meeting was "Renew. Refocus. Reignite."  They really wanted to have fun at their team building event and show that you have to work together as a team to acquire new contracts but to have fun doing it.
The group traveled from around the globe- US, Canada, LA, Asia, Europe, a mix of everyone knowing each other really well and a fair number of new people just joining or their first sales meeting.  Many people know each other from phone calls, but not in person so this was a perfect opportunity to come together and get to know each other a little more personally.  The activities in the Build A Bike ® are designed so that the participants learn team building in an experiential way.  They are broken into teams and are given tasks that cement their team identity, only to discover that ultimately they have to go beyond what they think is their team to accomplish their goals.  By the end of the event, they saw that sharing information and working through problems with communication is the path to everyone winning.
The PRA participants donated 16 bikes to children at the John H. Harland Boys & Girls Club of Atlanta.  One of the young girls was visually impaired and had been sharing a bike with her older sister.  When Ms. Robinson of the Boys and Girls club shared this information she was so touched that her little girl was getting a bike that she was tearing up as she spoke.  Many of the participants were moved to tears but the kids were jumping up and down with enthusiasm.  A perfect mix of emotions to end the event on.
Thank you PRA for your wonderful contribution!