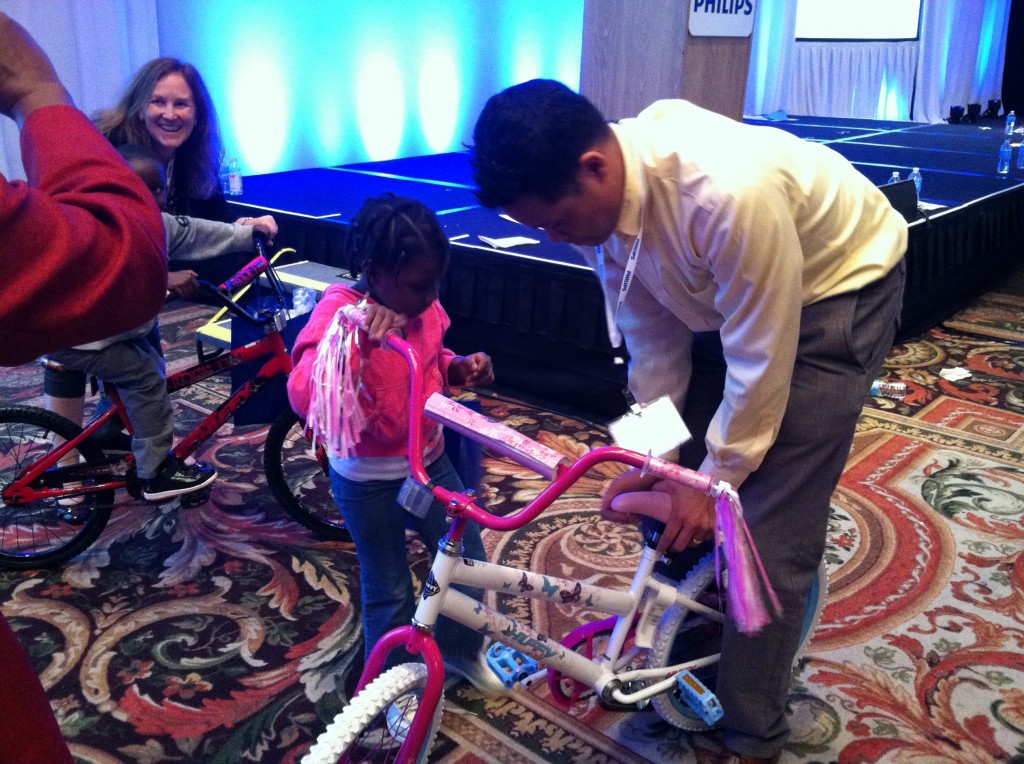 Philips Healthcare included a Build-A-Bike ® charity bike build in their annual meeting recently, held in Orlando, Florida. This was a sub-meeting of a larger, mega-meeting taking place in Orlando with the entire company. This event was held with the Ultrasound group. The sales and marketing team assembled comes from regions across the country, and has main offices in Washington state and Massachusetts. Orlando was a nice, warm gathering place for everyone to meet!
Build-A-Bike ® is a fast-paced, high-energy workshop that gives participants the opportunity to interact, compete, and ultimately work together to solve a series of challenges. Due to our competitive human nature, there is typically some skepticism at the notion that the teams need to collaborate to solve the challenges more efficiently. There was great energy in the room as 225 people tried to outwit each other! While this group of people don't necessarily work together in their day-to-day businesses, they did rise to the challenge and help each other, ultimately making everyone successful.
Philips Healthcare Bike Build in Orlando, FL.
By the end of the event, they had built 36 bikes! Local kids from the YMCA of Central Florida came at the end of the event to receive the bikes. There was not a dry eye to be found! The energy level rose even higher as the adults swarmed around the kids to make sure each one fit their bike.
"What a fantastic event! Meeting the kids and seeing their faces at the end was priceless." — Bart de Boer, Philips Healthcare
Everyone likes to give back to the community, especially to kids in need.
If you want information about how your team can organize a "charity team bike build" click this link. For a list of all of the fun team building events in Orlando, click here.
Including Build-A-Bike ® in your next conference gives those you've brought together the opportunity to do just that while adding energy, enthusiasm and fun!