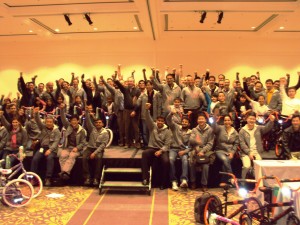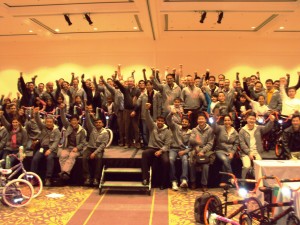 Over 300 Rambus employees came together for a day of meetings that ended with a Build-A-Bike Team Building event ®. The event has a great philanthropic twist as the California Bay Area Boys and Girls Club provided 12 children as representatives to receive the 50 bikes at the end of the event. The event had the participants involved in fun activities that aided in their teambuilding and leadership skills. From the opening exercise to the giving of the bikes to the children the energy and enthusiasm was high and the laughter contagious. All of the activities and energy translated into a fun team building event where all the participants contributed to the success of the time they shared and did something that made a difference for them and for 50 area children.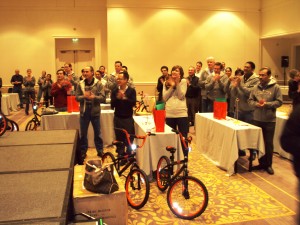 What can a Build-A-Bike event ® teach us about teamwork? One simple lesson that is experiences is that teamwork goes beyond the immediate team to involve a larger team. In this instance there were 48 teams given various tasks, but it wasn't until they learned to work together across team boundaries that the problems were able to be solved. When the smaller teams enlisted the help of others the actual team work among teams provided the benefit. Often time companies are divided by location, divisions, departments, etc. But when we work across those boundaries to help each other progress really occurs. We may compete for limited human resources, time, financial consideration, budgetary appropriation, and any other things, but competition can become detrimental to the overall welfare of the larger company. If one branch succeeds at the cost of another the company at large suffers.
This is just one of the lessons demonstrated by the Build-A-Bike Team Building event ®. The people at Rambus did a great job contributing the event and in making a positive difference in the life do 50 boys and girls, their families and the communities they live in.
For details about Team Building in San Jose, California, click here.