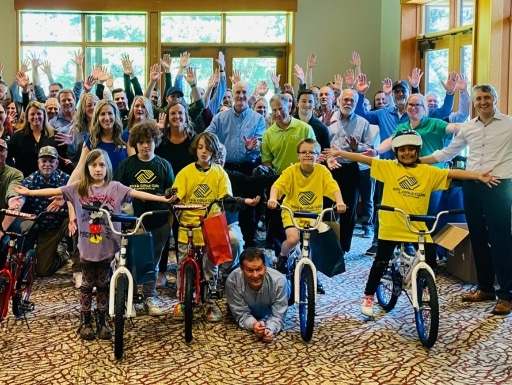 Timber Products participated in a Build-A-Bike® team building event with 60 participants in Eugene, OR. Employees from the team traveled from various locations across the country to attend. The event served as a quarterly gathering for employees to foster a strong company culture.
Established in 1918, Timber Products is a leading manufacturer of a diverse range of wood products, particularly recognized for its hardwood plywood. With a commitment to environmental sustainability, Timber Products operates with a fully integrated approach, encompassing multiple manufacturing facilities, an import division, and a nationwide logistics and transportation division.
Timber Products employees come together for Build-A-Bike® event in Eugene, Oregon
Once a quarter, employees from different departments gather to strengthen their company culture. This time, the company decided that a Build-A-Bike® team building event would be just the thing everyone needed. Sales, operations, and finance teams, hailing from various parts of the country, had the opportunity to reconnect and collaborate in a meaningful way.
The participants had a great time reuniting and assembling bicycles for children in need. Not only did they contribute to a worthy cause, but they also created a fun and lively atmosphere. One group even crafted a cheer inspired by the song "Ice, Ice Baby." The camaraderie and shared experience further strengthened the bonds among the employees, reinforcing the positive and collaborative work environment at Timber Products. Best of all, the Boys & Girls Club of Emerald Valley was able to bring a group of children to receive the newly built bicycles!
Bring your team together for a fun, in-person charity event! Check out our full list of team building games in Eugene, Oregon!
Thank you, Timber Products, for your dedicated employees who helped make this event a success. We also thank the Boys & Girls Club of Emerald Valley for their collaboration.