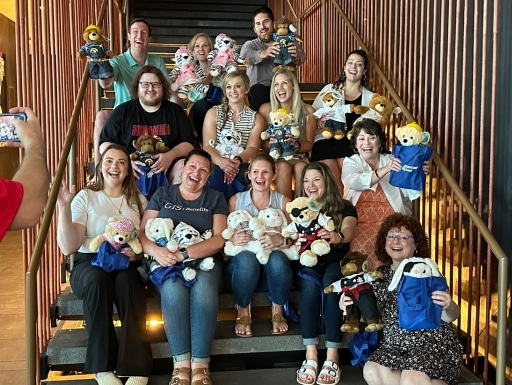 GIS Benefits organized a Rescue Bear® team building event in San Antonio, TX, with 18 participants. The event provided an opportunity for the leadership team to come together, have fun, and support a charitable cause.
GIS Benefits is a technology-driven company. They focus on simplifying the implementation and ongoing management of employee benefits for brokers and employers. With a strong network of top carriers, GIS Benefits offers competitive pricing, exclusive features, and comprehensive benefits options. Since its establishment in 2006, the company has grown by delivering specialized expertise and resources to meet the evolving needs of the employee benefits market.
GIS Benefits leadership team joins forces for Rescue Bear® event in San Antonio, Texas
The Rescue Bear® event brought together the leadership team of GIS Benefits in a casual and enjoyable setting. Laughter filled the room as the participants worked together to stuff teddy bears. Despite being a small group representing different locations across the United States, the event served as a bonding experience for the team.
Does your team need a fun event to bring them together? Then check out our full list of team building games in San Antonio, TX!
The Rescue Bear® team building event is designed to foster cohesion. It also supported the Ronald McDonald House, a charity dedicated to providing a home away from home for hospitalized children. By participating in the event, GIS Benefits demonstrated their commitment to giving back to the community and supporting families in need. The event left a lasting positive impact on the participants and reinforced the company's values of collaboration, compassion, and philanthropy.
Thank you, GIS Benefits, for your participation and generous donation to the Ronald McDonald House!