Wells Fargo was having a leadership summit at the Omni Hotel and Convention Center in Dallas. Their theme this year includes focus on their end customer and managing risk in an extremely scrutinized regulated environment. It is a group of very competitive, very driven managers historically focused on profit but now have to learn to focus on the end customer risk management and profit. Two hundred and fifty people came together to go through a series of exercises and have some fun while learning the importance of working together as a team to accomplish great things. Doug Staneart the President and CEO of The Leaders Institute wanted to facilitate this event because of the history between our two companies.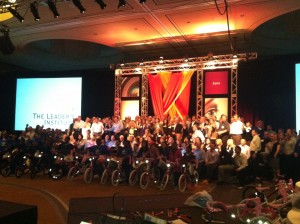 The Build-A-Bike team building event teaches teamwork skills through a series of challenges which the teams are to complete. The tasks encourage the teams to think outside the box to come up with a solution to complete the puzzle while they learn to work efficiently as a team. The opening exercise is just what the group needed after a long day of meetings. The overall lesson is that everyone works together to reach the same goal. The group participated and worked well with each other, there was a lot of team work going on in the room. When the kids showed up to the event to receive the bikes the group was moved. The contact was very pleased and said "The group was talking about the event the next day and they really enjoyed it"
---
Author: Abigail Orru, Date Published: March 9, 2014
Abigail Walsh is an instructor for The Leader's Institute ® based in the Dallas, Texas Region. She is a specialist in philanthropic team building as well as public speaking classes.
More Articles Like This... Case Studies • Build-A-Bike ® Tagged with: build a bike team building event • build-a-bike • dallas • Texas

---