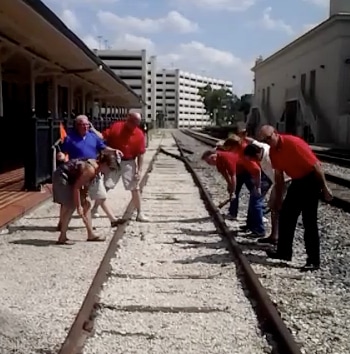 Allied Builders raced through Orlando's historic district, competing with high tech gadgets to win a Camaraderie Quest team scavenger hunt. Did I say competitive?   No?  They were COMPETITIVE. Instructions given – the race was on to solve clues, take photos, create video's and win the Camaraderie Quest.
Old Florida has a lot to offer for a scavenger hunt, like the old railroad station, where the video was zooming.  There was even a little singing of "We've Been Working on the Railroad" and more, anything to finish the scavenger hunt. (Including asking a policeman for directions.)  No penalty.
Historic Florida Is a Great Place for a "Hunt."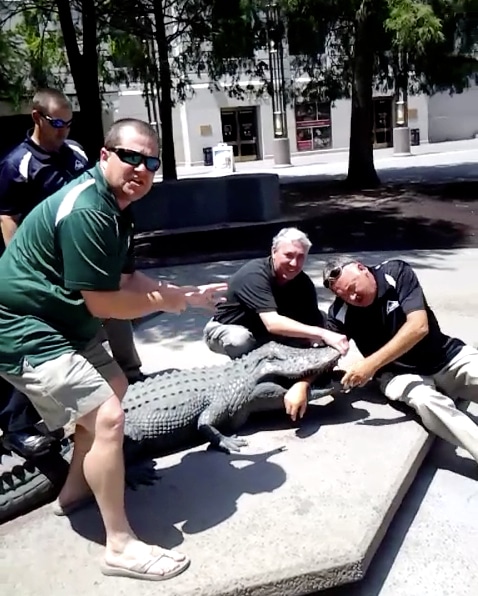 Allied, strengthened its moral with the Camaraderie Quest team building scavenger hunt, learned a little Florida history, and a whole lot about themselves.
Like who knew they would like wrestling alligators? Fear factor?  Forget it.  Not this group.  This was a chance for folks who compete every day, and today the competition showed them a whole lot about themselves, and their strengths.  This scavenger hunt was a perfect way to let loose, and have a few hours of fun-filled collaboration.
When the scores were in, there was a clear winner – the company and all the individual participants who work hard to make the business grow.  This day, the competition was all in the name of fun, teamwork, and collaboration.
By Connie Timpson/Sr. Instructor/Performance Coach/The Leader's Institute