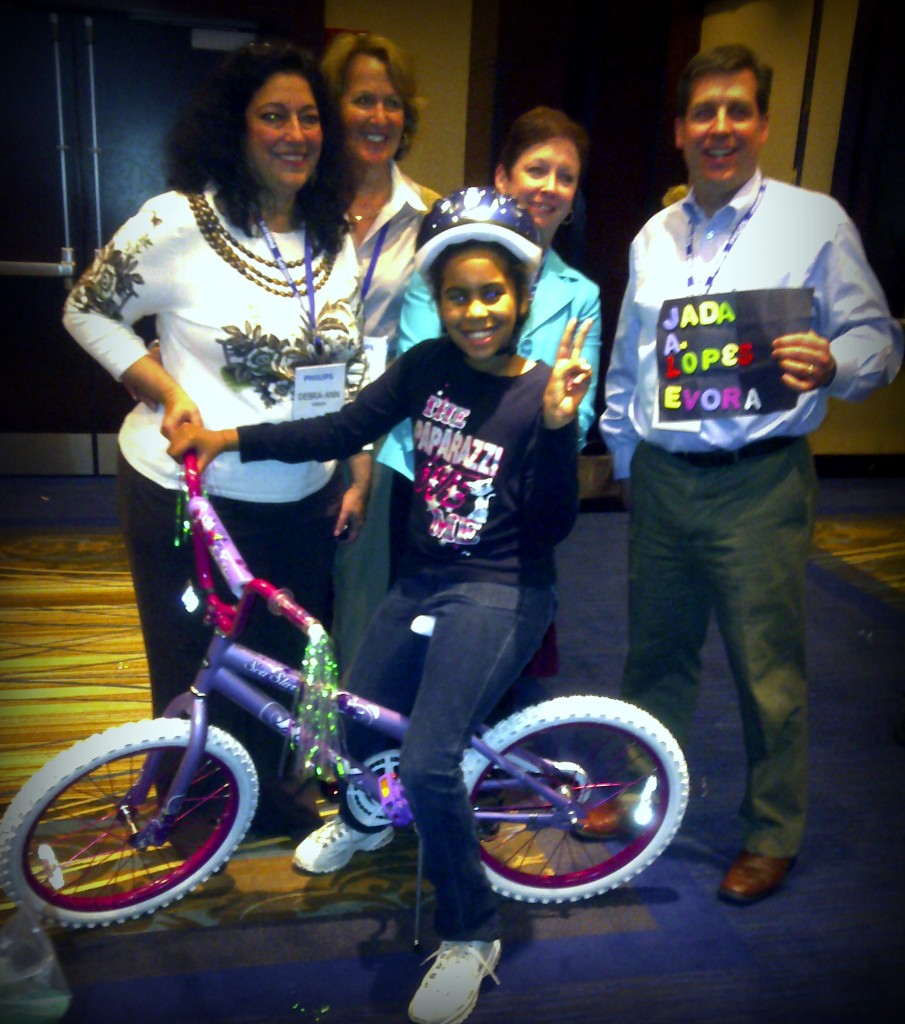 Philips, came to Boston, Massachusetts from international and US Cities to learn to build teams and give back to the community and Build-A-Bike® for kids who have none. Just a few blocks from commerce and pleasure boats, is East Boston, a tough neighborhood. Kids walk past drug deals on their way to school and are tempted to act out rather than to achieve. One team, and one challenge at a time, nearly 200 Philips folks came together to make these kids' lives a little better. 22 kids each got a brand new bike built by Philips teams.
When these beautiful children ran into the room you could feel a collective spirit of goodwill. The folks from Philips got to understand the kids a bit from someone who knows all too well what East Boston is all about. Father John Nazarro, a guiding force with a gentle hand, intimately knows the pressure and danger that these kids face. He came back to the streets where he grew up. His dream complete, he returned to the East Boston's streets as the Director of The Boys and Girls Club, where he gives his life and guidance to kids who remind him of himself.
"When I was 7 years old. My mother was hospitalized after a family car crash for about two years. That night changed my brother's and sister's lives. needless to say. I practically lived at the Boys & Girls Club those years and never forgot it as a home away from home. God has blessed me with the opportunity to give back to others for the last 33 years. Your kindness in thinking of our kids makes me grateful each day that we do live in a world where great things happen. Our kids need to see that."
If you want information about how your team can organize a "team bike build" click this link. For a list of all of the fun team building events in Boston, click here.
It is hard to say who was touched most by this team building event. Father John, the 22 kids who got brand new bikes that will empower them to feel like they are "special" and loved; or the folks from Philips who felt that on this day, they made the world a little kinder, and life's waves a bit less choppy for some kids living near Boston's historic harbor.