Archive for the 'Camaraderie Quest' Category
SurgCenter Donates $10,000 to Make-A-Wish
Very fun Kid's Quest team scavenger hunt held for SurgCenter ® in Clearwater, Florida this week. We were at the Sand Pearl hotel right on the beach. As a result, we were able to explore the resort and have a lot of fun. This was a Kid's Quest version of our Camaraderie Quest team treasure hunt. SurgCenter ® decided to donate $10,000 to the Make-A-Wish foundation with the proceeds that teams earned accomplishing each task in the quest. Make-A-Wish sent a young child with cancer on a Caribbean Cruise with his family with the donation.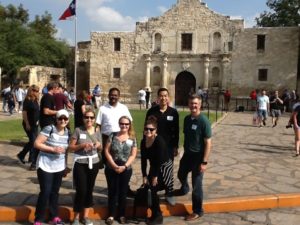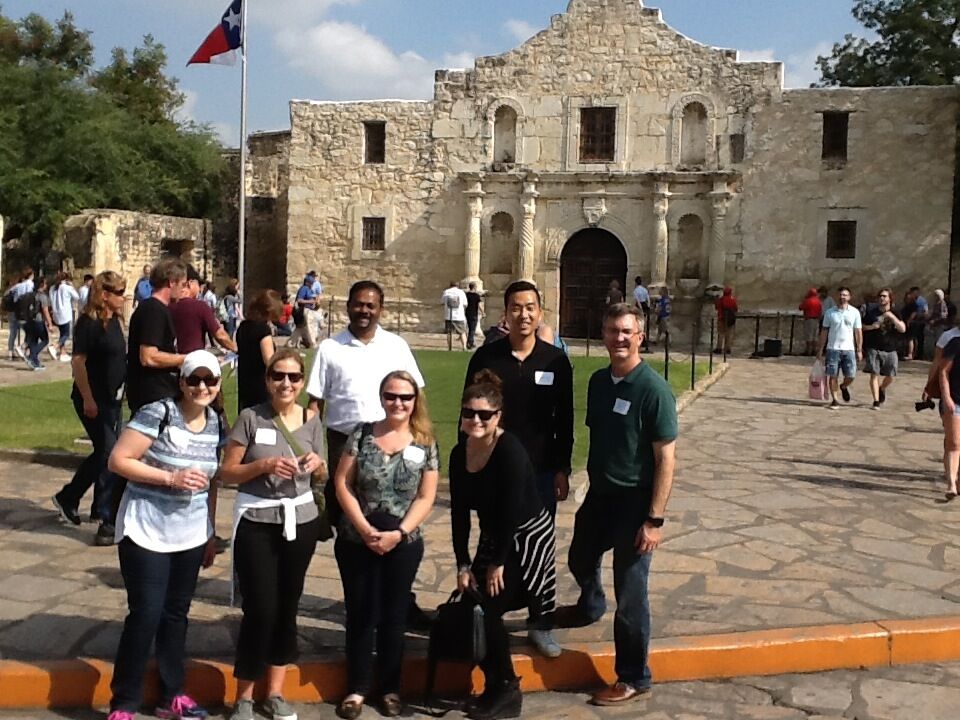 We had an absolute blast last Friday working with a group of 100 people from USAA in San Antonio, TX. The group participated in a custom Camaraderie Quest team treasure hunt on the River Walk in San Antonio. Their competitive juices were really flowing throughout the hunt. We originally were just going to do a standard treasure hunt on the River Walk. However, since the USAA offices are a few miles away from the quest location, we decided to hold the mid-point break in between the two quests at Rita's On the River. When we contacted Rita's, they offered to allow the group a private room for the break if we purchased a "nacho bar" for the group. It was a tough decision…
"Wait, you're going to give us use of the nice room and all we have to do is partake in an all-you-can-eat-nachos extravaganza? Well, if you insist!"
Great Food, Great Camaraderie, and a Fun Treasure Hunt
So, the executives at USAA decided to turn the event into a lunch as well. We started the program at around noon with nachos, quesadillas, salsa, and tacitos (something from every food group). One of the organizers from USAA had team members sign in as they arrived. She had a brilliant idea to organize the teams based on the color of pen that each person used to create his/her name tag. We quickly organized the teams. Then, we gave a short demonstration about how to use the iPads to access the series of quest items. Finally, we sent them off on the hunt. Since it was a fairly large group, we had each team start on a different treasure hunt item.
At the conclusion, the teams submitted a series of completed historical puzzles about the Alamo, hundreds of group photos proving that they had found a specific location, and a couple of very disturbing Little Mermaid musical numbers.
The team had an absolute blast. For details about a Camaraderie Quest for your group, visit this link. If you want details about different team building activities in San Antonio, Texas, click here.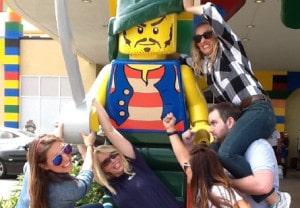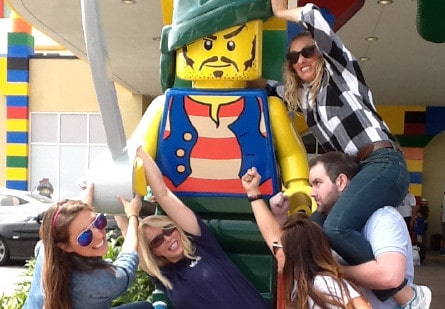 ViaSat, Inc. wanted to end a full day of meetings with a fun team building event on July 30, 2015, so they decided to do a Camaraderie Quest team scavenger hunt. The location of this event was the Legoland Hotel in San Diego, CA, which was a perfect venue for this type of activity. Each of the six teams were given iPads (not to keep!) with clues on them, and the clues asked for a combination of factual information, photos, and videos that the teams had to work together to solve. Once they figured out the clue, they then had to either enter text, take a picture, or film a video on their iPad in order to score points. They were highly encouraged to have fun and be creative, as the more entertaining the pictures and videos were, the more points they received! They also had to think about what strategies work best for their teams based on the personalities in their particular group.
Similarly, we can work more efficiently in the workplace if we are aware of how different personalities like to communicate and interact. An understanding of these differences, and similarities, can help companies be more productive. At the end of the event, Los Angeles based instructor Chris McNeany tallied the total number of points, and a winning team was declared. The members of ViaSat had a great time exploring the Legoland Hotel and came up with some truly hilarious photos and videos.
Thank you to ViaSat for allowing us to have so much fun with you at this event!
"Everyone loved the Camaraderie Quest and we look forward to working with you again in the future. We can't wait to see those pictures!" – ViaSat
The location of this event was: Legoland Hotel in San Diego, 1 Legoland Dr, Carlsbad, CA 92008
| | |
| --- | --- |
| | Chris McNeany is a Vice President and Instructor for the The Leader's Institute®. He is based in Los Angeles, California, but he teaches classes in San Diego, San Francisco, Las Vegas, and Seattle as well. |
For details about Team Building in San Diego, California, click here.
Celanese in Las Colinas an upscale, developed area in the Dallas suburb of Irving, Texas decided to have the Camaraderie Quest in the Las Colinas Canal area. Based in Dallas, Texas and with an employee base of approximately 7,600 worldwide, we serve our customers through operations located primarily in North America, Europe and Asia with 27 production facilities and an additional 9 strategic affiliate production facilities.  Celanese is a global technology and specialty materials company that engineers and manufactures a wide variety of products essential to everyday living. As a recognized product and process technology innovator, we help to create applications that meet the needs of our customers worldwide.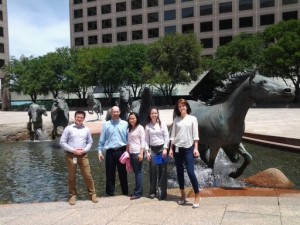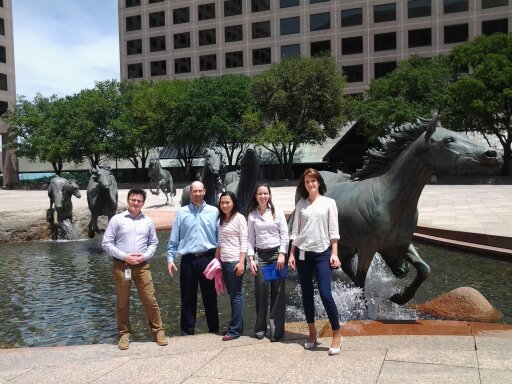 Much more than a common team building scavenger hunt the Camaraderie Quest is a brainy, challenging, high-tech adventure that is tailor-made to your group and location every single time. No two adventures are the same! The custom course is composed of little known facts about the area, places that your group will need to take a picture of to prove they were there, and movies of the group completing fun tasks that add some comedy to the presentation at the end. Dee the contact person for the group said "I have lived in Dallas 25 years and this is the first time I have seen the Williams Square Mustangs" The Celanese group of auditors, some traveled from Shanghai and Hungary for this week long training were out of the box thinkers, the group was very creative in their answers to the clues. At the end of the event we viewed the pictures, videos and decided the winning team. The group all laughed at each others pictures and videos a quite a few of the participants said "this was crazy fun" and "great to get out of the training room"
On October 5th, 2012 Richie Lee, Founder of Lee Financial in Dallas rewarded his team with a day of fun that included a Camaraderie Quest in Fort Worth Stockyards for a year of hard work. Lee Financial, of Dallas, continues to be the industry leaders and innovators. Their mission is to help clients make careful, intelligent decisions for the purpose of achieving security, success, and fulfillment in their lives. The tour bus shows up at the office to pick everyone up, they start the day with the VIP tour at the Dallas Cowboy Stadium, pictures on the field, throwing the ball around. Once the tour is through they travel to Fort Worth to have lunch at a famous eatery, Joe T. Garcia's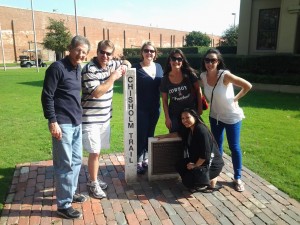 The quest started at The Bullring, the first known gambling hall in Fort Worth, the group was very excited about that fact and it was a great place to meet. The owners went through the history of the Hall and treated everyone to cookies and brownies. The Lee Financial group embarked on the Fort Worth Stockyards with enthusiasm, energy and a real competitive nature. They couldn't wait to ride the bull at the Rodeo Zone, make a movie of the team conducting a jail break and solving the clues to this high tech game using Smart phones. Sarah Beattie the contact and organizer for the day's events chose the teams very carefully; she placed people in non-leadership roles to be the team captains and mixed up departments so everyone worked with different people. This group was competitive to the end as we summarized the event the group looked at the pictures that everyone took, adding and subtracting points for not following directions, wrong answers and upside down photos all  got huge laughs. Richie Lee shook our hands along with a few others and said "this was great and thank you for being a part of our day".
Over 100 employees of American Water Resources came together for a unique team building experience in St. Louis, Missouri. AWR hosted two Camaraderie Quest Team Scavenger Hunts on consecutive days. The Camaraderie Quest is a high tech scavenger hunt in which the participants learn the importance of clear communications, alert observations, and having fun to build teamwork and camaraderie. The venue was The Old Courthouse and the Hyatt regency Hotel in St. Louis Missouri,. 10 teams one day and 6 the next had to find items, answer questions, take pictures and even make some videos in the different locations. It was a fun time of getting to know each other better while accomplishing a fun but difficult task.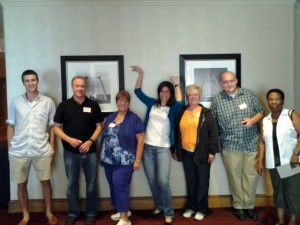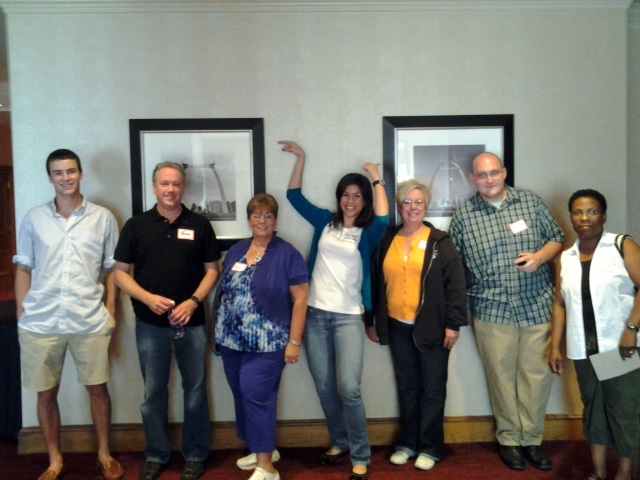 The Camaraderie Quest Team Building Event can be a great opportunity to get out of the office and do a fun activity together. Especially when workers are in physical proximity, our interactions can become predictable and repetitious. We get used to seeing each other in certain surrounding, working on similar tasks, doing the same things and in the same environment. We do a good job and it becomes routine, which can be dangerous. That is one reason the group from AWR came together- first as a reward for a great year, but also to spurn on excellent continuation of the progress made. When we get out of those surroundings and get to know each other little better we get new insight into each others personalities and a different revelation of what other individuals are like. We also get to expose our selves to others and prosper form being a little more vulnerable. These can produce positive growth in each individual and so foster growth within the team and the entire organization. The theme for the days meetings was "Gateway to the Future".
Thanks to American Water Resources for a great Camaraderie Quest Team Building Event. What a great way to have fun, see each other in a little different light, and learn some great team building skills.
For details about a Team Building Event in St Louis, click here.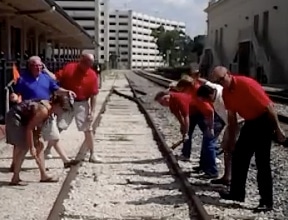 Allied Builders raced through Orlando's historic district, competing with high tech gadgets to win a
Camaraderie Quest team scavenger hunt
. Did I say
competitive?
   No?  They were COMPETITIVE. Instructions given – the race was on to solve clues, take photos, create video's and win the
Camaraderie Quest
.
Old Florida has a lot to offer for a scavenger hunt, like the old railroad station, where the video was zooming.  There was even a little singing of "We've Been Working on the Railroad" and more, anything to finish the scavenger hunt. (Including asking a policeman for directions.)  No penalty.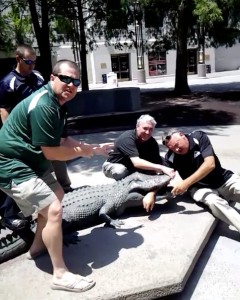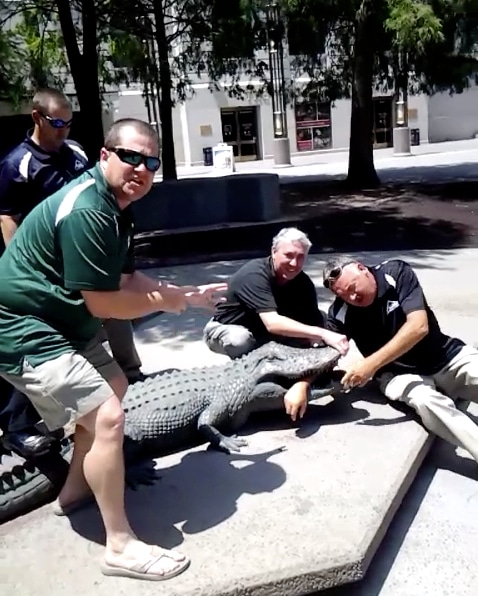 Allied, strengthened its moral with the Camaraderie Quest team building scavenger hunt, learned a little Florida history, and a whole lot about themselves.
Like who knew they would like wrestling alligators? Fear factor?  Forget it.  Not this group.  This was a chance for folks who compete every day, and today the competition showed them a whole lot about themselves, and their strengths.  This scavenger hunt was a perfect way to let loose, and have a few hours of fun-filled collaboration.
When the scores were in, there was a clear winner – the company and all the individual participants who work hard to make the business grow.  This day, the competition was all in the name of fun, teamwork, and collaboration.  By Connie Timpson/Sr. Instructor/Performance Coach/The Leader's Institute
Camaraderie Quest
team building event in
Panama City
,
Florida
.  High tech gadgets in hand  folks from DCF learned about each other and took a walk into St. Andrews history, solving high-tech challenges to collect all the pieces to the puzzle.
Which way did they go?  That was a little confusing.  But they figured it out and ended up working together to create a little drama on historic St. Andrews Bay.  These dedicated people, who make very difficult decisions, got to step back, laugh, and give in to their creative-childlike side.  They learned a little more about each other; how to communicate more effectively, and solve problems as teams competing to win the quest.
They got out of the office, put aside the every day challenges of helping families and children understand how to navigate life.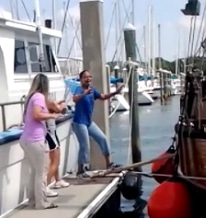 They are tasked with protecting children, guiding them, counseling families on how to be families, and removing any danger to the children.  To say their jobs are stressful is a major understatement.  So this Camaraderie Quest team building event was a perfect way to let loose, and have a few hours of fun-filled collaboration
The quest came to life, with pirates, pelicans, and partners, oh my!  Yes, Peter Pan was there, and more than one person walked the plank!  There is even a grand old live oak that is mythically believed to have protected the cove during the war that pitted north against the south.  This historic little city has weathered many changes.  The folks from DCF learned it all while on a Camaraderie Quest to strengthen their team, and have some fun.
| | |
| --- | --- |
| | Connie Timpson is Vice President of Instruction for the Southeast Region. She is based in Jacksonville, Florida, but she also teaches in Orlando, Tampa, Miami, Ft Lauderdale, Atlanta, and other Southeastern cities. |
Interested in a Team Building Event of Your Own?
Florida's Department of Children and Families (DCF) strengthened its team with a
| | |
| --- | --- |
| | Connie Timpson is Vice President of Instruction for the Southeast Region. She is based in Jacksonville, Florida, but she also facilitates team building events in Orlando, Tampa, Miami, Ft Lauderdale, Atlanta, and other Southeastern cities. |
Florida's Department of Children and Families, went on a Camaraderie Quest team scavenger hunt near  Fort Walton Beach, Florida to discover hidden treasures within themselves, and learn how to better collaborate and communicate.  These folks have some of the most emotionally demanding jobs on the planet.They make monumental decisions, based on in-home studies, precedence and protection of children.  Their decisions are never easy, always stressful, and filled with hope and caring, that what they do will help put a family, or a child, on more sure footing in today's world.
They take their work so seriously, that some wanted to stay behind and keep working.  Knowing that you can only gain perspective and learn new things away from the office they were nudged into the sunshine, plied with high-tech clues, and sent into the woods – away from every day life. They were sent on a mission, a quest, to bring back treasure, find some answers, and explore their creative sides.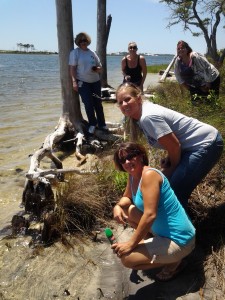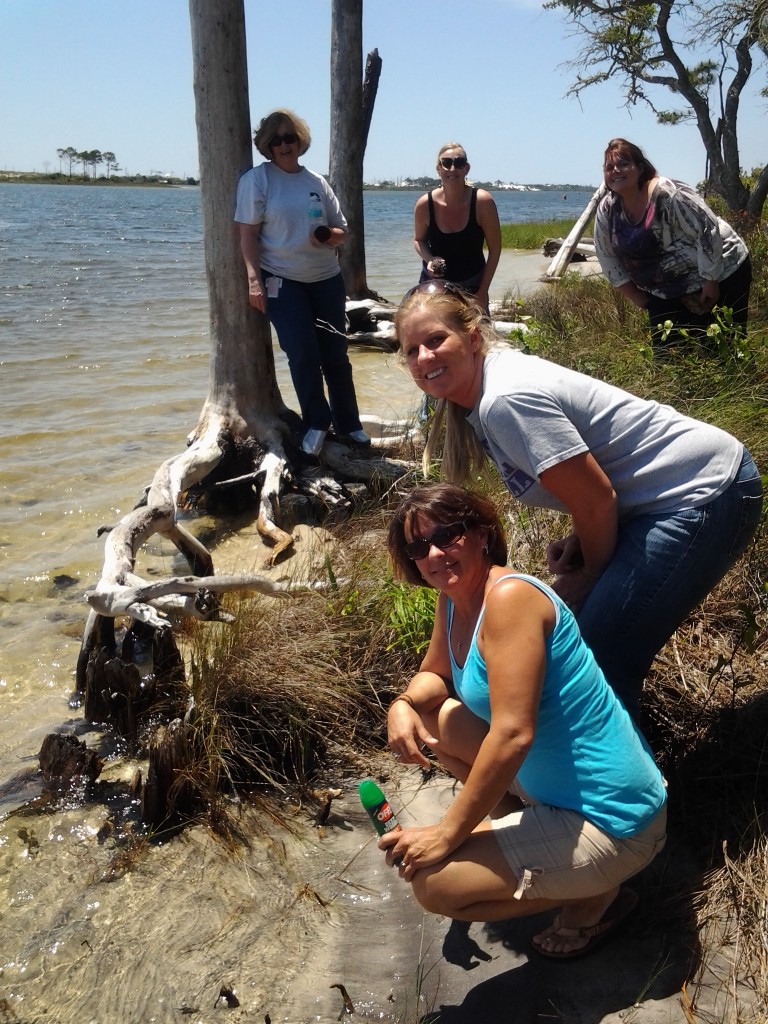 They let loose, and exchanged ideas, put creativity before logic, and became a stronger team.  They learned the value of collaboration, communication, and getting to know each other.  Individuals were no longer an email, or a title to each other.They became breathing, caring, funny people to each other, opening lines of better communication. They worked together, solved problems, and laughed a lot.  Something they do very little of in their jobs.  Being pushed to step away from their responsibilities for just a couple of hours, brought out the "whole" person, not just the case worker, who face such demand and solve some of today's most difficult social situations.  They came together as a team, strengthened their ability to communicate, collaborate, solve problems, and exchange ideas.  Director, Patricia Franklin said, the Quest delivered on its promise to bring the team together, and have a really good time, adding they have not laughed like this in a long time.
Interested in a Team Building Event of Your Own?
Below are a Few Additional Florida Team Building Events

We have recently posted a new video on YouTube for the Camaraderie Quest High-Tech Team Scavenger Hunt. The Camaraderie Quest is a really fun team building event that can be conducted outdoors in any downtown area or historical area, at theme parks, or any other outdoor venue that has interesting building, historical venues, or art. The team scavenger hunt can also be conducted indoors in museums or shopping areas (or even on resort grounds in some situations). Each team activity is customized for the group and the location, and these team events are really, really FUN!

Take a look at the video, and you'll be able to see some pictures and videos from past events.

For more information about the Camaraderie Quest Team Scavenger Hunt, click this link or call us toll-free at 800-872-7830. Blog postings about past Camaraderie Quests: Camaraderie Quest Team Events

You can also check out our free team building tips and leadership skills articles and videos by clicking any of the following links: