Lloyd S. King Elementary School held a very successful Camaraderie Quest for its faculty and staff on Thursday, September 2. This scavenger hunt type team building event is fun for everyone as the group is divided into teams and then given a list of things to accomplish. Along the way, they must solve riddles, gather information, take pictures, make videos, and have lots of fun. The 21 people involved in this activity were very creative and worked outside the box on many of their assignments. The imagination of the group was clearly evidenced in their pictures and videos. The children that attend this elementary school are fortunate to have such a creative and imaginative staff. I am sure the children benefit tremendously.
Canadian Elementary School Offers Teachers a Fun Scavenger Hunt.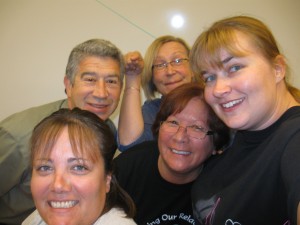 One of the great things about The Camaraderie Quest team building event is that it get people out of their comfort zone and allows fellow workers the opportunity to view each other in a little different perspective than usual. Team Building isn't just coming up with way to work together better, but it is also learning to appreciate the differences in each other, along with recognizing the strengths of others. Through this fun and entertaining event the participants get to have fun, but the "aha" moment comes at the end of the program where they have a new appreciation and understanding of each other.
After this particular program, one of the organizers mentioned that the goal of the program was to bring the people together and that it had done that in a marvelous way. Bring your people together and give them the opportunity to learn to appreciate and understand each other better, try a Camaraderie Quest today.