The Boys & Girls Club is and has always been a positive place for kids. It offers children and teens a supervised environment where they learn to set and achieve goals while ensuring a cycle of success for their futures.
Nobody knows this better than Shannon Hyland. As a child Shannon lived in North Las Vegas and found the street was not a safe place to hang out. He began going to the Boys and Girls Club of North Las Vegas. There he found acceptance and guidance. He learned about goal setting. His grades improved and he gained confidence. Shannon now lives in Bethesda, Maryland and is the Chief Financial Officer of RADIUS Travel.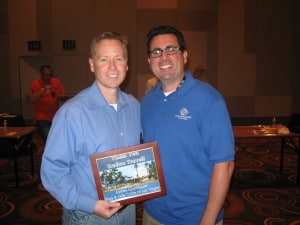 His company was planning an international conference in Las Vegas. It was decided the agenda should have a team building exercise with a philanthropic component. They selected Build-a-Bike© from The Leader's Institute. From the very beginning there was no question who the charity would be. Pictured to the right is Shannon receiving a thank you letter from Josh at the Boys and Girls Club of North Las Vegas. RADIUS Travel was able to provide thirteen boys and girls a new bicycle and helmet. Several of the children indicated this was the first bicycle they had ever owned. The employees of RADIUS travel learned a bit about team building and a lot about the great work of the Boys and Girls Clubs.
You want to see what a success "cycle" looks like? Take a looks at these smiling faces.