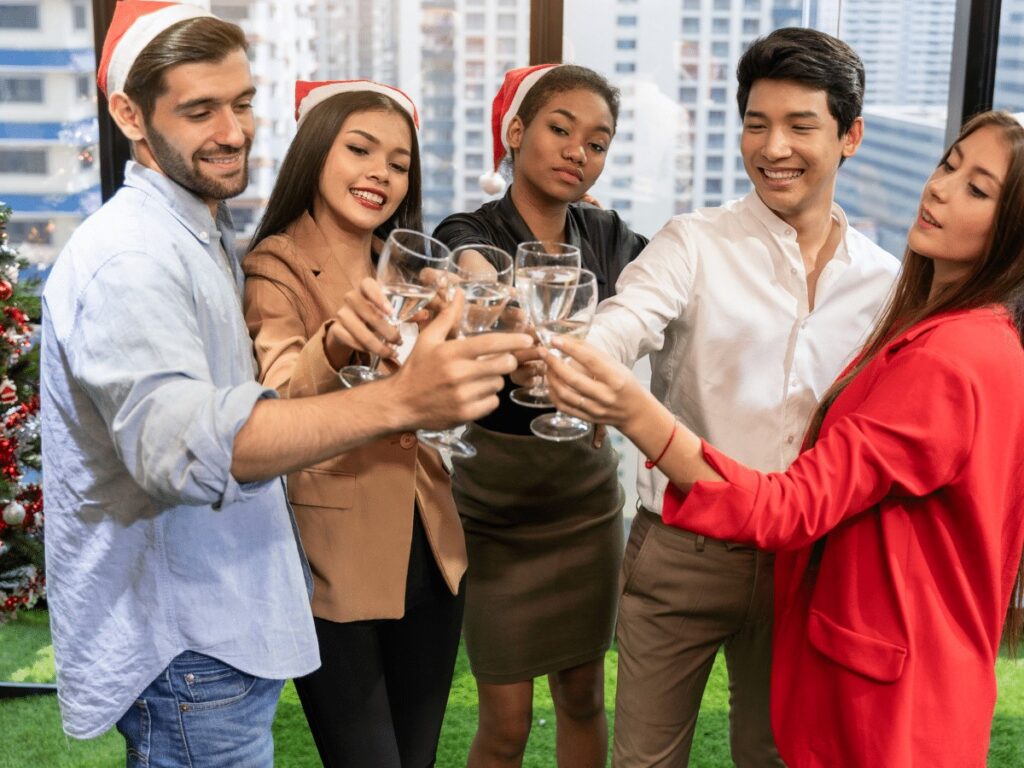 Looking for a great way to build the holiday spirit and morale in your workplace? These Christmas team building activities can help. I've broken these fun team-building activities into three main categories to make it easy to find the perfect team event for your group.
First, we'll talk about Christmas team building events for small groups. Next, I'll share some of my favorite activities for larger groups. Finally, we'll cover a few virtual holiday party ideas. Let's start with the easiest — the small group activities.
The Best Way to Organize an Office Christmas Party for Smaller Groups,
Please, please, please don't overthink your holiday office party if your group is small (under 20 people). If you want to keep your cost lower, just organize a potluck lunch on the last day before you break for the holidays. Then, let your team go home once the party is over. This type of activity is an easy way to get your whole team involved in the party preparation. Most often, your team members will bring their "specialty." So, the group will eat well. They will also compliment each other on the items that each brings to the party.
If you want to splurge a bit more, have a caterer bring in lunch. You may also want to bring in a few bottles of wine or Champagne for an impromptu wine tasting. Alternatively, you might supply a container of hot chocolate or decorated candy canes to increase the Christmas spirit of the party. The point is to create a holiday season atmosphere. The party doesn't have to cost a fortune or be overly elaborate. Just give your team some time to relax and enjoy some teamwork after a hard year of team work.
A Nice Dinner Is Often the Best Christmas Team Building Activity.
Typically, a nice dinner is a perfect way to get your group into the festive season. After I left corporate America and began working for small business owners, this was a major shift that I noticed. The big companies I worked for organized big Christmas parties. The entrepreneurs organized intimate Christmas dinners.
My last boss used to take the whole team (and our spouses) out to a nice restaurant and pick up the check. The evenings were always nice. We got to dress up and interact with our coworkers in a more friendly environment. Some years, we would organize a Secret Santa or white elephant gift exchange just to make the dinner more festive. However, most years, just dinner with friends and family was the perfect activity.
Organize a Competitive Team Outing.
If you have more of a budget for your Christmas team building activities, your group will have a great time in a team outing. For instance, one of my clients this year took their team to an
indoor go-kart track
. The facility gave the group a private room to share a meal together. Then, they each received a game card to play video games. The entire activity was juvenile — sure. But it was also really fun.
If your team is more inclined to enjoy a little friendly competition, you might try an outing at Top Golf or try your hand at ax throwing. Top Golf locations have popped up in many major cities. You will likely need to schedule your reservation early because this activity is very popular. However, your team will have a blast. These huge facilities allow your team members to eat, drink, and play a fun game that is a cross between going to a driving range and bowling.
For a more adventurous team, try ax throwing. If you have never heard of this activity, don't be alarmed. It is actually quite a bit tamer (and safer) than it sounds. This activity is actually just a new iteration of throwing darts. (It's just that the darts are bigger and heavier.) Ax throwing bars and clubs have opened up in cities all over the world in the last few years. Yes, it is a new fad, but it is also something that most of your team has probably never done before. Since it is new it is more interesting.
For more team outings, take a look at our post about Fun Team Outings for Your Group.
Fun Christmas Games for a Small Group.
Between you and I, Christmas games for small groups can end up seeming really hokey. Your team will likely have a better time if you do a fun outing instead. However, there are a few games that make holiday parties more fun.
One of the best Christmas party games is the white elephant gift exchange — also known as Dirty Santa. Basically, everyone brings a wrapped gift within a predetermined price range. Each person chooses a gift to open. The order that participants get to choose their gift could be drawn out of a hat or based on seniority with the company. As each person opens a gift, the person can keep the gift or trade the gift with another team member who has already unwrapped a gift. (The last person to open a gift has a distinct advantage.)
Another fun Christmas game is the Plastic Saran Wrap Gift Ball. this one takes some time to set up but is hilarious and very interactive. The organizer buys hundreds of tiny gifts. These could be gift cards, candy, small office supplies, lottery tickets, etc. Wrap a number of items up with the plastic wrap. Then, place another item or two on the outside of the newly created ball and add additional layers of plastic wrap. Then, do it again and again. You will end up with a huge ball of gift items and Saran wrap.
Organize your team around a single table. Give one the Saran Wrap ball and another a pair of dice. The person with the ball gets to unwrap the ball as fast as possible until the other person rolls doubles. When the dice both match (doubles,) the plastic wrap ball and the dice each get passed to the next person. The game ends when all the items are unwrapped.
Christmas Team Building Activities for a Larger Team,
When you organize activities for large groups, you might consider hiring a professional host. Yes, everything that I mentioned for the smaller groups still applies. For instance, simple is usually better. Outings can be a fun way to get your team to interact in a more fun or personal way. And, of course, forcing a holiday game on the entire group can seem cheese if not organized well.
However, the bigger your group gets, the more difficult organizing the activities will become. So a little professional help can go a long way. They can keep you from forgetting important details or making costly mistakes. The main thing that you want to remember though is that the perfect game for a small group can absolutely backfire with a large group.
With all that being said, though, these ideas are time-tested and work very well for larger groups!
Add a Christmas Charity Team Building Activity to Your Holiday Party.
If you want to create an experience that your team will remember, try adding a charity team activity to your party. These activities can become the focal point of the afternoon or evening.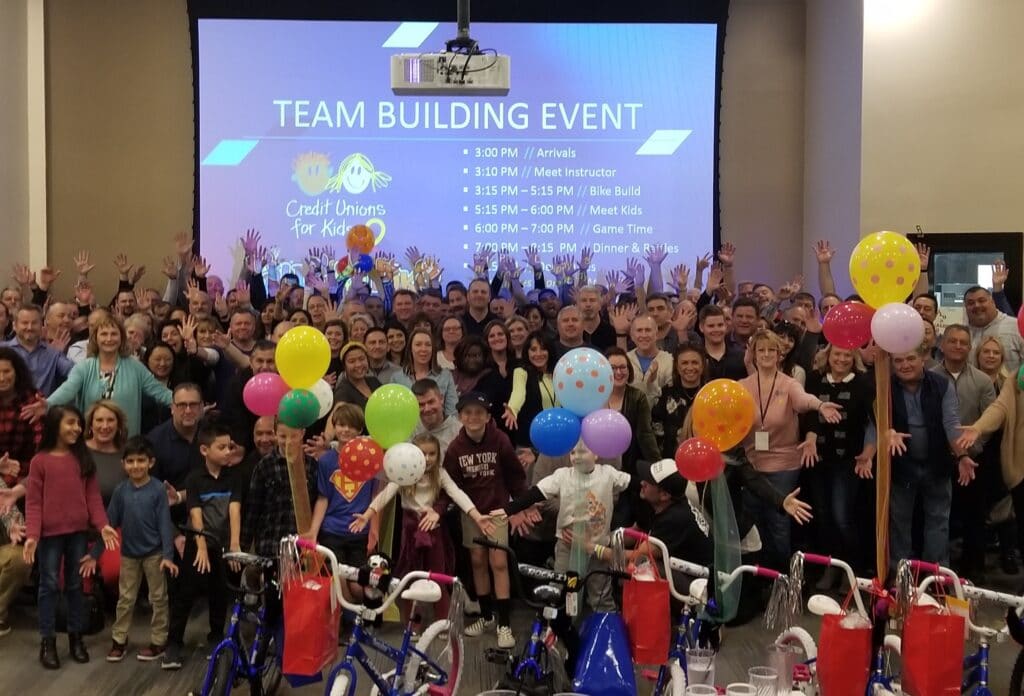 Doing something for charity at Christmas time is always nice. However, when you combine a team building activity with the donation to charity you can increase the emotional draw of the donation exponentially. Years ago, I was leading a Build-A-Bike ® activity for a client just before Christmas, and we were donating the bikes to the local YMCA here in Dallas-Ft Worth. The director of the club gave a heartwarming speech just before kids from his club came rushing into the room to receive their new Christmas gifts.
During the activity, the participants had no idea the kids would be there to accept the bikes at the end. So the director and I watched as each group adjusted the seat and handlebars for each of the kids. They all got photos of their kid sitting on his or her new bike. (By the way, the social media posts were numerous as well.)
The charity representative had a tear in his eye. I asked, "What is the matter?"
He paused and responded, "See those two kids? They are brother and sister. Their dad got laid off from his job four months ago. The older brother came to me last week in tears because there were no gifts under the tree for his little sister. He was wondering if he could work for the club to earn extra money. Now, look at the two of them. They both have something special this Christmas."
I teared up a little too. a good charity team building activity can add a lot of positive emotion to your meeting!
What Makes the Charity Activities So Fun Is that They Combine Team Building and Charitable Donations.
By the way, don't focus on the manual labor. For instance, in a Build-A-Bike ® activity, the actual building of the bike only takes about 10 minutes. Organizers often get confused because they think the bike building is the most important part. And the more bikes you build, the better the activity. This way of thinking, though can cause huge problems.
I'll give you an example. When we organize a charity bike build, we put together different games that the group plays to earn the bike parts. The activities require a number of different skills. They also require the small groups to interact with each other. So if there are eight people on each team, the entire team participates in the process. One team member may earn the handlebars while another earns the front tire. So even if some team members are not really mechanically inclined, as the team earns the last bike part, they all feel a sense of accomplishment.
Also, if your group builds eight bicycles, it will be pretty easy for a children's charity to organize eight kids to come to your meeting. However, if you build 100 bicycles, the odds of any charity being able to organize 100 children coming to your meeting is pretty slim. Less tends to be more in this type of activity.
If you just give a box of bike parts to a group of eight people, most will just watch. A couple of the team members will open the box and begin to assemble the bike. The whole process won't be much fun, by the way. That is why you want to make your charity activity an experience. Make the manual labor a small part of this experience. Focus more on the fun and less on the manual labor.
What Happens If You Have a Remote Team? Virtual Christmas Party Ideas.
Obviously, you can always organize a virtual happy hour. These virtual Christmas parties can be fun, and they can build morale and teamwork. They can also be cheesy and awkward. So, organize these activities with caution. If you decide to go this route, put some thought and preparation into the activity.
For instance, most liquor stores offer single-shot bottles like you typically get on an airplane. You could purchase three or four of these for each of your participants. Then, send them out in a gift box with a branded glass that has the company logo on it. Label the outside of the box with "Do not open until [date of your virtual happy hour.]" As you start the video call, everyone gets to open their box. You can have some fun talking about which each will open first, etc. Alternatively, you can send out mini-wine bottles along with a wine glass.
If one of your team members is not a drinker, replace the alcohol with a selection of teas or sodas.
The point is to organize some kind of activity that they are all participating in.
Organize a Virtual Team Activity During the Virtual Holiday Party.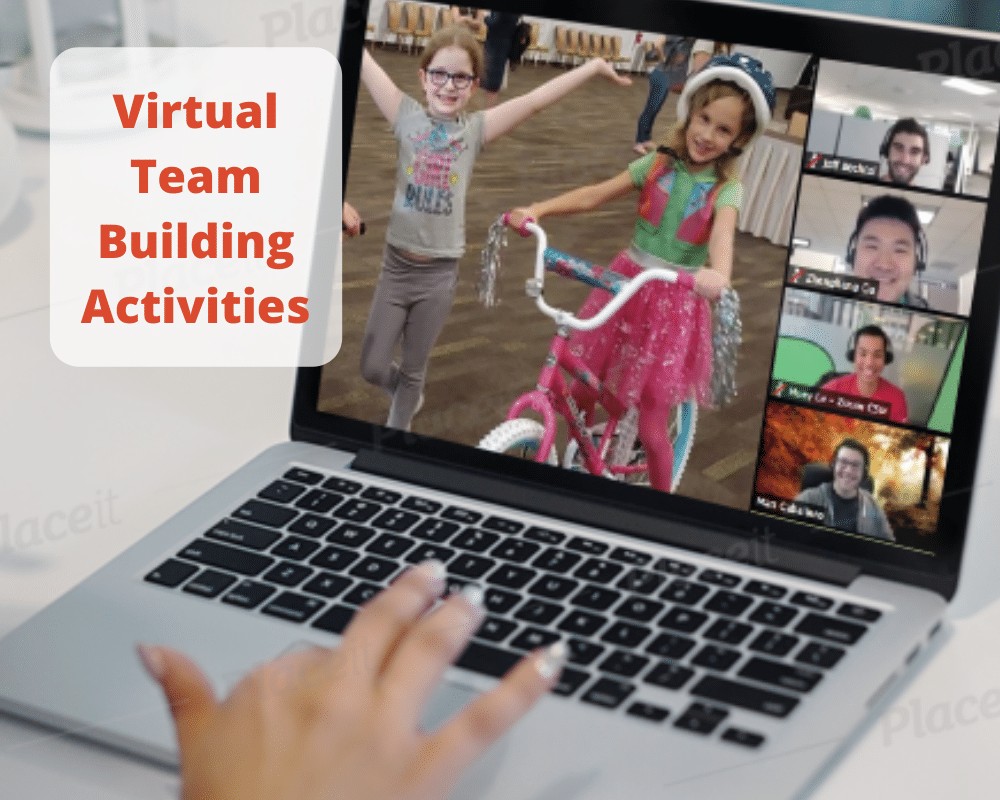 Just like with the in-person holiday parties we talked about above, you can also schedule a virtual charity activity as well. For instance, the Build-A-Bike ® activity I mentioned above can also be delivered virtually. So if you have a remote team, you can still create that emotional team experience. When we deliver this version, we send one of our instructors to a local Boys & Girls Club. As team members virtually earn each bike part, the instructor who is onsite gives each kid the part. Then, the instructor and the employees of the charity help the kids assemble each bike.
As the team accomplishes the last team challenge, we show their kid receiving the last part. The team gets to watch as the kid sees his or her new bike for the first time and the entire event is recorded on video. When you combine something like this with the virtual happy hour, both activities become more fun and emotional.
Alternatively, you can organize a virtual escape room for the group or even a virtual murder mystery. Each of these activities is fun and highly interactive which is the exact opposite of the way most people describe Zoom meetings. So if you want to do something really special for your remote team at Christmas time, try one of these virtual team activities!
Celebrate this Wonderful Time of the Year
Regardless of which of these fun Christmas team building activities that you choose, remember the real reason for the season! Yes, it is fun to do good for others, and yes, we want to build great teams. However, Christmas is a time of celebration. It is a great opportunity to show the members of your team God's love. Merry Christmas!
If You'd Like Help Organizing One of these Great Christmas Team Building Activities, Complete the Form Below.