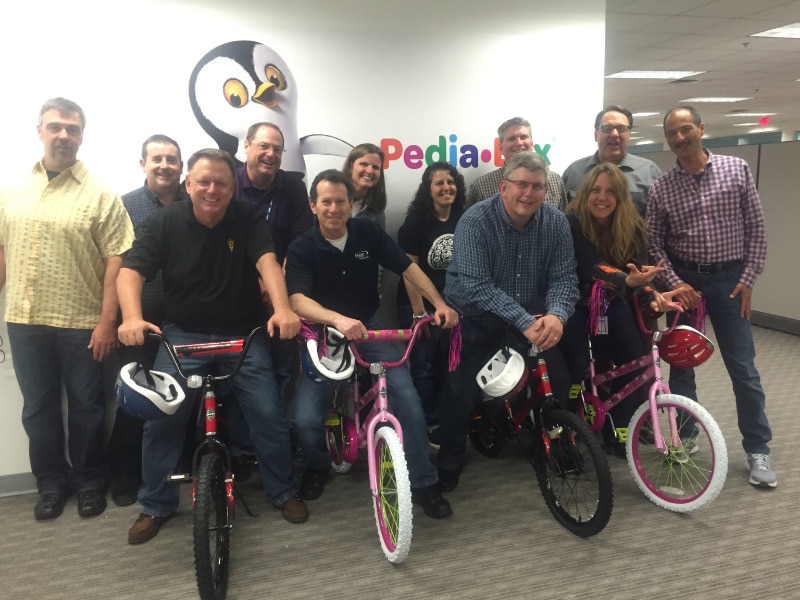 Fleet Laboratories, in Parsippany, NJ, held a multi-day team building meeting for the Sales and Marketing team. Employees flew in from multiple locations for their National Business Meeting. The event focused on their TEAM philosophy and leadership model.
Fleet Labs Wanted a Very Specific Result from the Meeting…
The Leader's Institute ® was invited to end their 3-day meeting with a Build-A-Bike ® team building event that met the following criteria
Fun
Engaging
Reinforced what they learned in the meeting.
Gave back to the community
Instructor Michelle Riklan arrived on the scene to deliver all. The group was highly engaged and enthusiastic. Each team cheered the next one as they each demonstrated what their team stood for with a presentation and team cheer. Several teams included the products and functions of the products in their presentations, which made for an "interesting" afternoon to say the least. Fleet has more than 100 consumer health and beauty products with some of their more well-known products being: Summer's Eve, Boudreaux's Butt Paste, Fleet Enema's, Gas-X, and more.
What was amazing was how well this group worked together; being inclusive, sharing information, helping each other, and really demonstrating how an effective team operates. They overcame the obstacles and challenges associated with completing their goal, which was to build 12 bikes, and they all did it with laughter and cooperation.
At the end of the event, a representative who works with Habitat for Humanity came to collect the bikes. One of the really fun things that we get to do as instructors is to create and organize fun meetings for "geographically diverse" groups. So, if you have a group traveling in for an annual meeting, add some fun with a team building event! Want to create a fun team building meeting for your sales team (or any other team in your company), call or team meeting hotline at (800) 872-7830.