Team Building Events NYC
Team Building NYC: Team building in the Big Apple starts with The Leader's Institute ® New York! Our charity team building events are very popular in Manhattan and New York. However, keep in mind that these events require space. For charity team events, the ideal locations have big open floor plans such as a hotel banquet room. As a result, these can be very challenging to fulfill in downtown New York office buildings. So, if you are looking for a New York NY team building event, we'd recommend the Rescue Bear ® activity. Other popular activities include the Charade Murder Mystery and Creating a Team Culture. Contact our New York based consultants for details about all your options!
Team Building Activities
Event List PDF
Fun things to do in the city that never sleeps!
STATUE OF LIBERTY
The Statue of Liberty is a colossal neoclassical sculpture on Liberty Island in New York Harbor in New York, in the United States. The copper statue, a gift from the people of France to the people of the United States, was designed by French sculptor Frédéric Auguste Bartholdi.
CENTRAL PARK
Central Park is an urban park in Manhattan, New York City, located between the Upper West Side and the Upper East Side. It is the fifth-largest park in New York City by area, covering 843 acres. Central Park is the most visited urban park in the United States.
TIMES SQUARE
Times Square is a major commercial intersection, tourist destination, entertainment center, and neighborhood in the Midtown Manhattan section of New York City, at the junction of Broadway and Seventh Avenue.
EMPIRE STATE BUILDING
The Empire State Building is a 102-story Art Deco skyscraper in Midtown Manhattan, New York City. It was designed by Shreve, Lamb & Harmon and completed in 1931. The building has a roof height of 1,250 feet and stands a total of 1,454 feet tall.
THE MET MUSEUM OF ART
Belmont Park is a historic amusement park located on Ocean Front at Surfrider Square in the Mission Bay area of San Diego, California. The park was developed by sugar magnate John D. Spreckels and opened on July 4, 1925 as the Mission Beach Amusement Center.
BROADWAY
Broadway is a road in the U.S. state of New York. Broadway runs from State Street at Bowling Green for 13 mi through the borough of Manhattan and 2 mi through the Bronx, exiting north from the city to run an additional 18 miles.
WHAT ARE YOU WAITING FOR? VISIT NEW YORK CITY!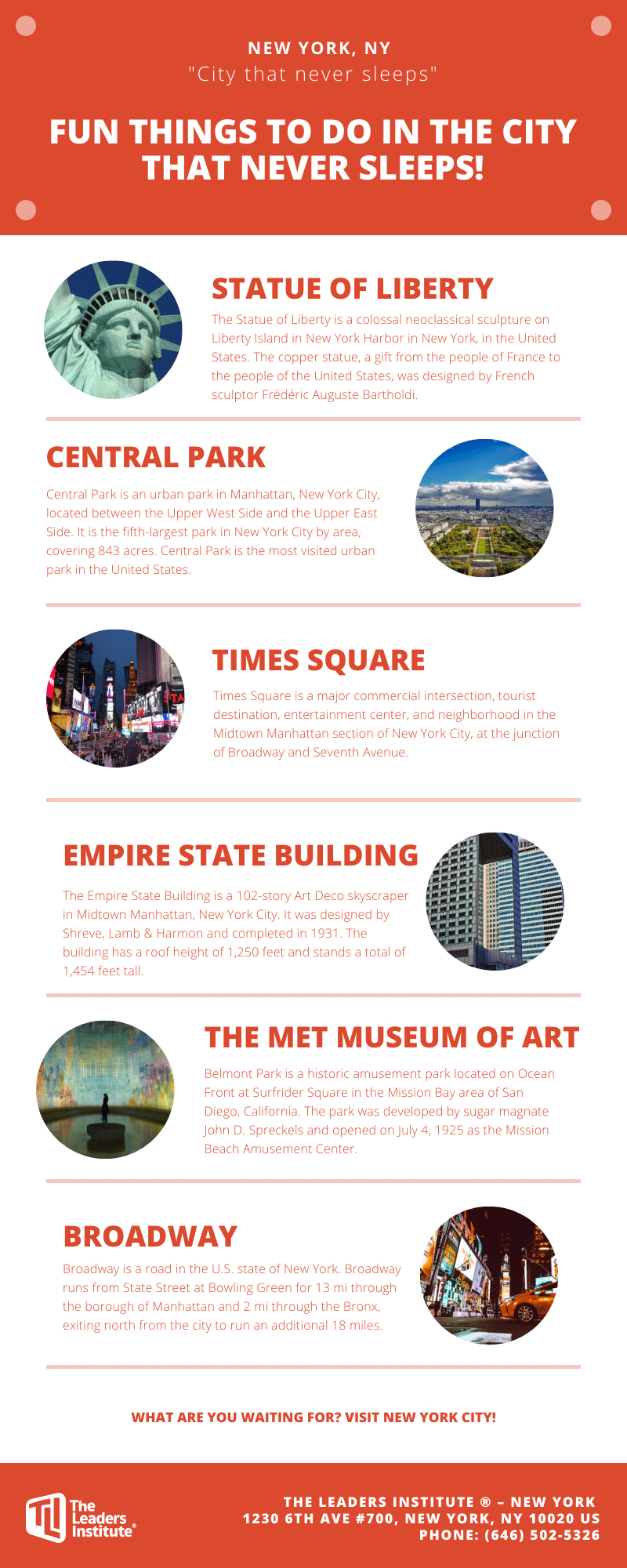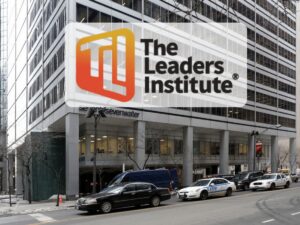 Team Building New York
The Leaders Institute ® – New York 
77 Water Street, Suite 800, New York, NY 10005
Phone: (646) 502-5326

Fill out the form below to receive more information!