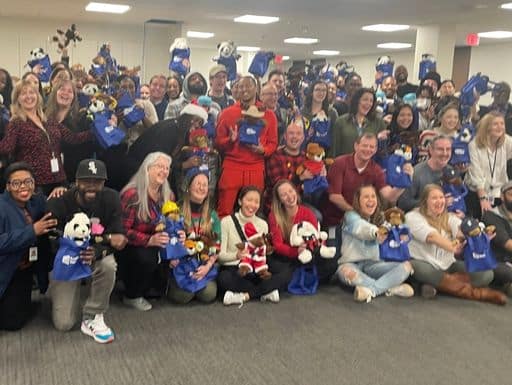 The Global Custom Commerce department of Home Depot added a service project to their Christmas party in Houston, TX. Jason Goodrich, the Senior Product Manager, invited his whole team to attend. He started by ending the normal workday with a Rescue Bear ® team activity. Then, the team stuck around for eggnog and carols.
Global Custom Commerce, a Home Depot Company, is an eCommerce focusing on home décor. Its e-commerce platform serves Home Depot customers seeking custom countertops, doors, window coverings, and more. They are a close-knit team of 500+ employees. 350 of these team members attended the Rescue Bear® event either in-person or virtually.
eCommerce Retail Team Stuffs Teddy Bears for Kids in Houston, TX.
This was an end-of-the-workday activity. So, it took a while to get the entire team assembled. We didn't want to penalize the nice folks who could be in the room on time, though. So, we started with a fun warm-up activity where we taught the group how to network with each other.
As new team members arrived, the group used the new skill to welcome coworkers from different building floors. Eventually, the newly formed groups solved team challenges to earn stuffed animal parts. They smiled and high-fived each other as they conquered each challenge. Once they had all the components, they built 150 Teddy Bears for charity.
They donated the stuffed animals to Memorial Herman's Children's Hospital. The representative mentioned that they have over 200 children staying in the hospital each week. And the average stay is three weeks each. So, these 150 bears will make those stays more pleasant.
Thanks to Memorial Herman and Home Depot for a fantastic team activity!