Johnson & Johnson Energizes Meeting in New Jersey with An Ace Race Golf Team Event to Feed the Hungry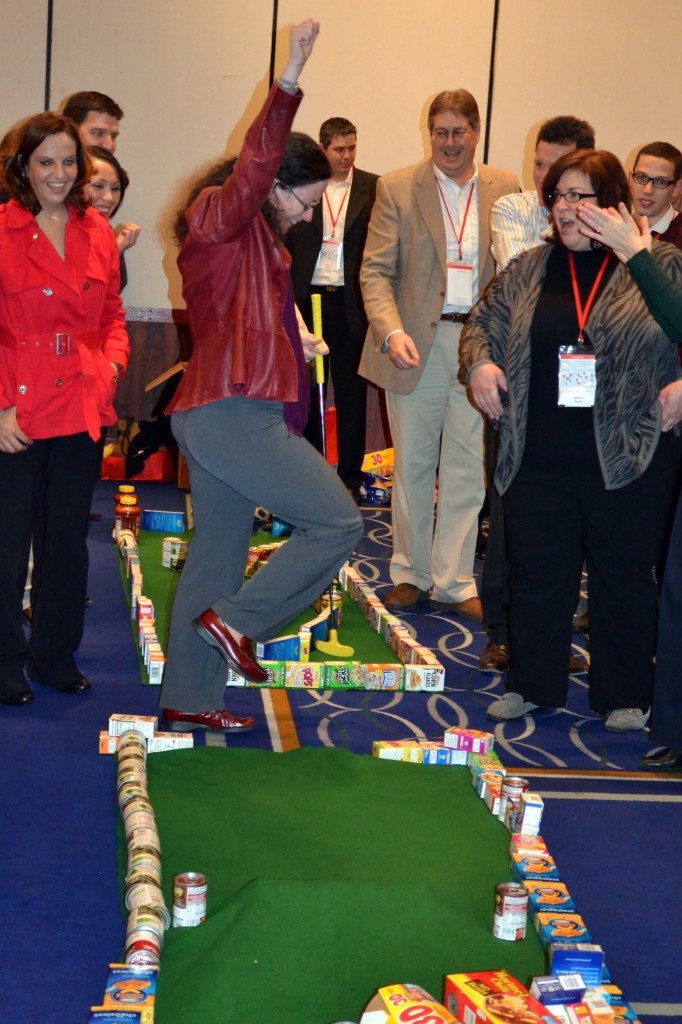 Johnson & Johnson managers from across the globe electrified their annual meeting in New Brunswick, New Jersey with an Ace Race Golf Team Event  A round of golf that puts food on the tables of the New Jersey and Greater New York Area of those who have little. 
This unique team building event sets up a little competition to build a better golf hole with the food they win.  A bridge made of mac and cheese?  A yummy team effort.  Swinging the clubs to make a hole in one takes a little concentration and a lot of laughter.  All to aid America's hungry.
Turning a ballroom into a golf course takes only a desire to build a stronger team, collaboration creativity and about a half-ton of food.  All in place, the holes played, the food will go to the food pantry of the historic Christ Church. 
J&J Aces Their Donation of Food to Their Local Food Pantry.
To get to know each other, strengthen their team, and give to others.  Along with the greens, waiting to tee off, they learned a little more about each other, besides who could hit a ball and those who laughingly could not.  In this 24/7 global economy, it helped put faces and personality with an email, or phone call.  Bringing teams together like this, personalizes the exchanges, creates bonds, and makes communicating easier. 
In the end, as with all things Johnson & Johnson, they came together with an impassioned belief – give to those less fortunate.  One out of every six children goes to sleep wondering if they will have enough to eat the next day.  The folks from Johnson and Johnson just made a lot of lives much easier and created team bonds at the same time.
The director of the food bank told the golfers that the need for food has been fueled by a faltering economy and recent flooding in New York and New Jersey.  She added that nothing is worse than having to say, I'm sorry, that is all there is.  She thanked Johnson & Johnson, for being part of the community, recognizing its need, and filling it. 
For details about a team building event in New Jersey, click here!