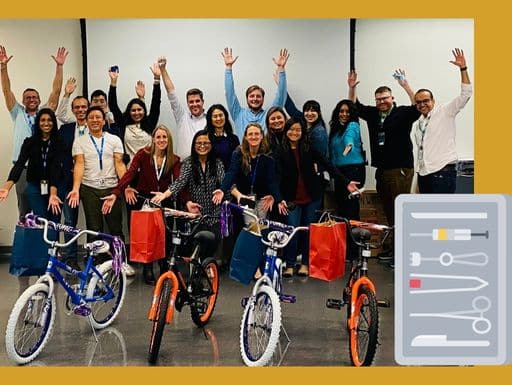 We'd gladly trade the dreary rain for beautiful temperatures in El Segundo, California. Karl Storz Endoscopy employees enjoy it every day though!
Karl Storz branched into the US in 1971 from Germany. Since it took root in the states, Karl Storz has been responsible for all of the sales of operating room tools. That means everything from electromechanical tools, endoscopes, imaging, and instruments. Don't fret, their company offers technical support and customer service options 12 hours a day. Most recently, Karl Storz worked to develop digital documentation systems and operating room concepts.
Build-A-Bike in Cali for Karl Storz
20 Karl Storz staff members joined together for camaraderie, team-building, and a little charity. First, attendees divided into small groups or teams. Each team received special clues. They had to work together to find the answers. Then, their answers were judged. That judgment either sent them to rethink the clue or a bike part. Finally, teams assembled a brand-new bike to be graciously donated.
To end their activity on a high note, staff donated the newly assembled bikes to Lakewood YMCA. Kids were so excited to take home their new bikes!